Examine fine art, sample fine wines, microbrews and spirits, snack on festival food and listen to live music, all while enjoying the sunshine and meeting fellow art lovers at the Thunderbird Artists' first Cave Creek Sculpture and Wine Festival.
This inaugural event will take place from 10 a.m. to 5 p.m. Friday, March 10 through Sunday, March 12 at Cave Creek's iconic Stagecoach Village.
"The festival forum is a wonderful place for artists to connect with art buyers, and for collectors to meet those who create the pieces they have in their homes," said Judi Combs, CEO of Thunderbird Artists. "Thunderbird Artists presents a relaxed, enjoyable atmosphere for art lovers to experience many different genres within the broad category of sculpture."
Art
Known in the art world as a collectors' paradise, Thunderbird Artists prides itself on quality and diversity. This inaugural sculpture festival boasts juried sculptors from around the country exhibiting a wide range of sculpture mediums and subjects including African and figurative stone sculptures, contemporary wildlife in stone, landscape stone sculptures, bronze, metal, copper, fiber, fused and hand-blown glass, clay, wood, mixed media, high-fired and raku ceramics and gourds.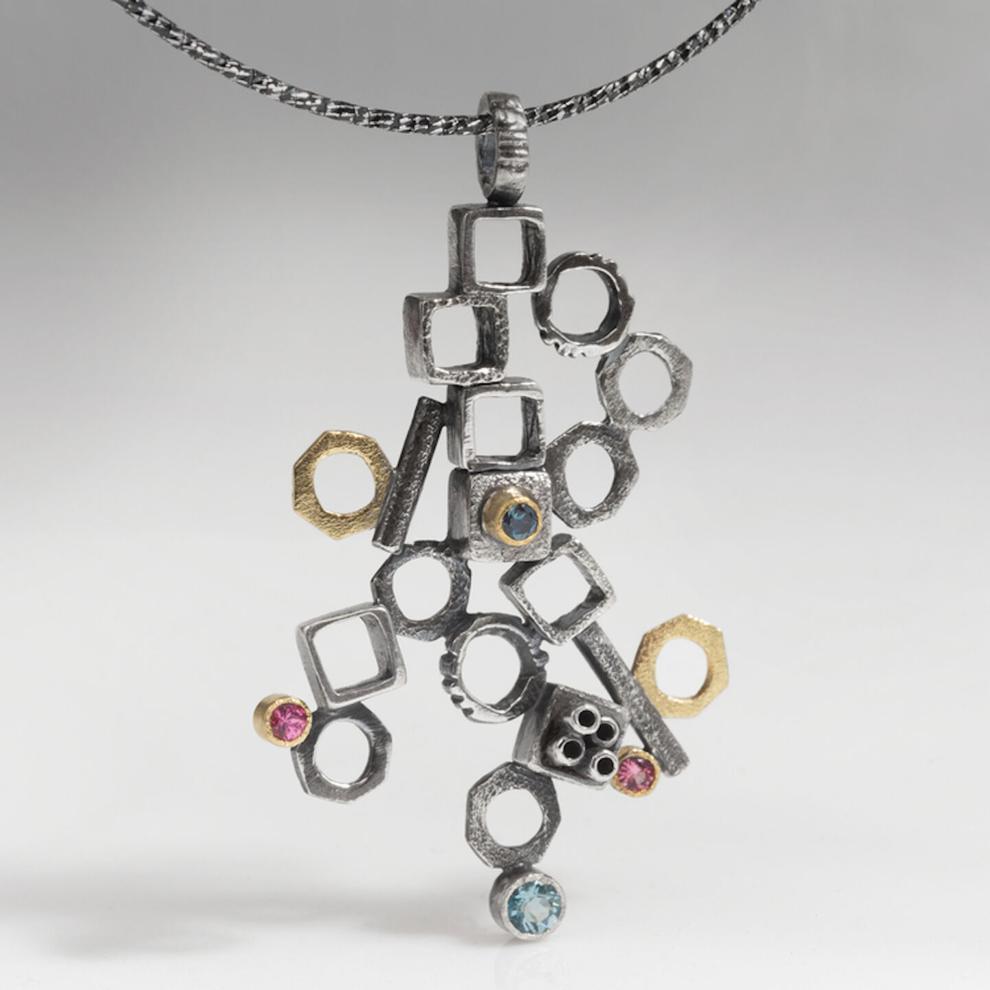 Sculptures will include small, medium, large, life-sized and monumental pieces. And, for those who like to wear their art collections, Thunderbird Artists festivals offer a broad range of one-of-a-kind jewelry.
"I've been doing these shows from day one, for about 30 years," said Marie Barbera, a bronze sculptor. "Thunderbird Artists puts on a great show, and the area is ideal for my subject matter, which is Native American art. All my collectors are here, and I look forward to Thunderbird Artists shows every year."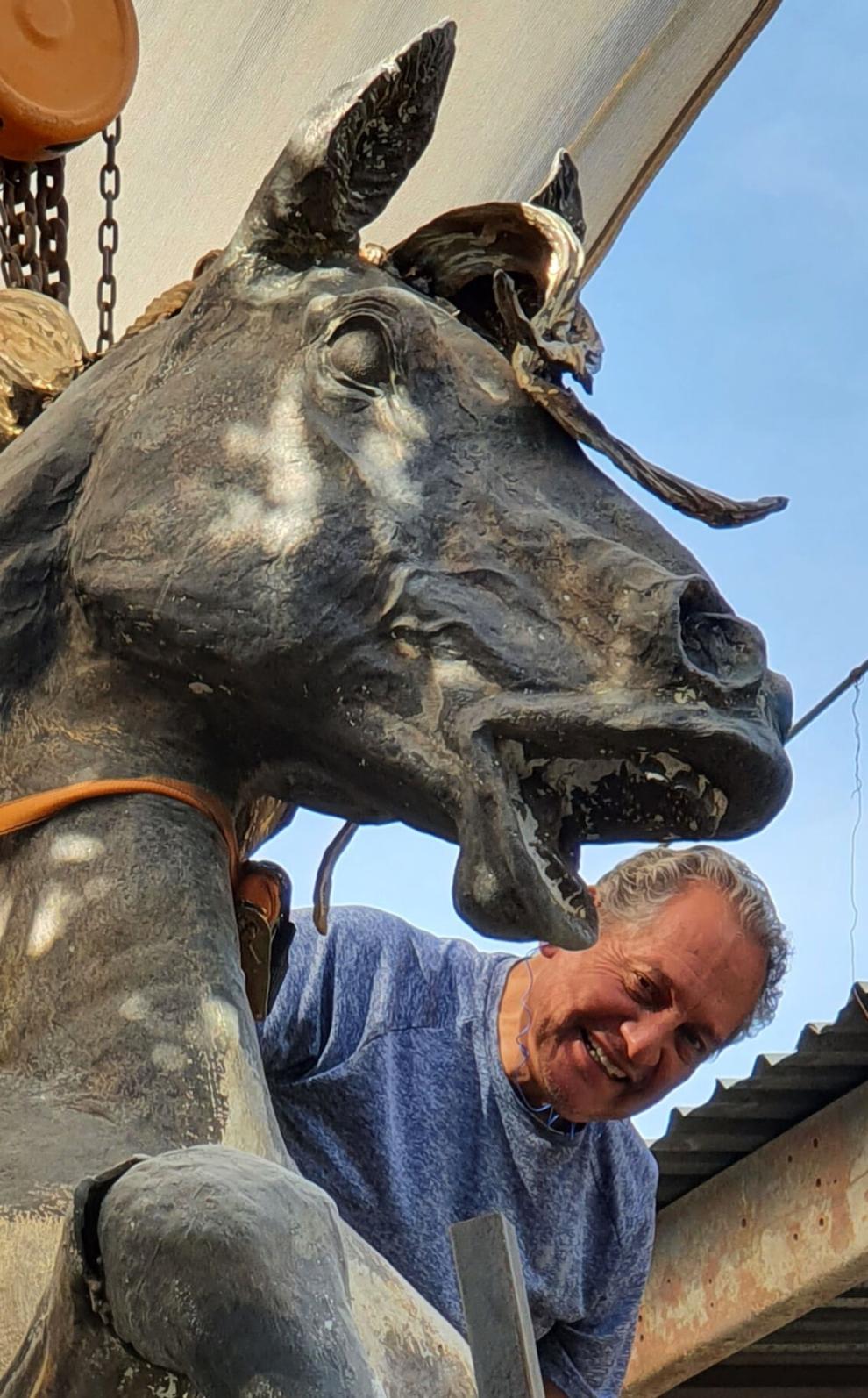 One of the featured artists at the Sculpture and Wine Festival will be Julio Sanchez de Alba, owner of Julio Art in Bronze sculpting studio in Texas.
Sanchez de Alba created two one-of-a-kind, larger-than-life sculptures of a horse and bison and transported them to the Thunderbird Artists Gallery in Carefree specifically for the festival. Upon his arrival, Sanchez de Alba was greeted by Carefree Mayor John Crane, Combs and a forklift to unload the monumental sculptures. Thunderbull and Black Stallion, the sculptures, will be available for sale at the Cave Creek Sculpture and Wine Festival, with the horse listed at $121,000.
Wine, spirits, food
Combining world-class fine art with an extensive selection of domestic and imported wines has long been Thunderbird Artists' winning formula.
This year's participating wineries include Black Mesa Cellars, Celestial Artisan Meadery, King Frosch, The Meading Room, Schlossadler International, Mediterranean Table and Wilson Creek. In addition, Adventurous Stills, Carefree Spirits and Desert Diamond Distillery will provide flavored spirits. Local microbrews will also be on site.
For an additional $15, patrons receive an engraved souvenir glass with eight tasting tickets. Unlike festivals with designated drinking areas, Thunderbird Artists events have attendees wandering at will, sipping wine and immersing themselves in world-class art.
There will also be a variety of food vendors at the festival, with local favorites like Mike's Chicago Dogs, Mickey's Bar-B-Q serving up meats and luscious cakes, Pop Daddy Kettle Corn and Mr. Nelson's Cookies, where the owner/artisan baker bakes and wraps each cookie himself.
In addition to sampling tasty treats from participating vendors, patrons can visit Stagecoach Village area restaurants such as Ofrenda, with its Latin-inspired cuisine and wide range of agave cocktails; Brugo's Pizza Co. with its signature crust; Mountain View Pub, with its bar fare and spectacular scenery and many more.
Thunderbird Artists
For four decades and over 400 events, Thunderbird Artists has launched artists' careers, has united nationally recognized artists with international collectors and has helped elevate the  Southwest art scene to one of global admiration and respect.
Thunderbird Artists' festivals have amassed countless awards and consistently rank among the nation's top shows. The upbeat atmosphere provides a unique marketplace for artists to make connections and sell their work, while the comprehensive jury process and trusted name give buyers a reason to visit Thunderbird Artists first.
"I've been doing Thunderbird Artists shows since they were parking lot shows of 15 artists," said Lynnette Moody, a mixed media artist. "Even back then, they were always high-quality shows. They've gotten bigger, and moved to more prestigious locations, but they're still high-quality shows. And that's why I travel 2,000 miles to do them."
A family business from the start, Thunderbird Artists is girl power at its best. Founder, CEO and former artist Judi Combs works side by side with her daughter, company president, Denise Colter who, long before earning her own art degree, cut her teeth in the art world by accompanying her mother to local art shows — although back then, she was still playing under the easel.
While Thunderbird Artists' reach is global, their scope has always been local. Combs and Colter are gratified that their festivals drive foot traffic to area merchants and give a platform to local and international artists; in addition, the company always donates a percentage of their admission to area nonprofits.
"We've always tried to treat our artists like family, and we know that these relationships contribute greatly to the success of our shows," Colter said. "We love working together and supporting each other. And the caliber of the artists is so high, we always have great crowds with lots of established collectors."
For more information about the Cave Creek Sculpture and Wine Festival, visit ThunderbirdArtists.com.