Outdoor lighting provides a variety of benefits. It can enhance the appearance of your home or business, increase safety around your property and create a unique, personalized atmosphere.
Leading Edge Decorative Lighting offers unique, innovative and – best of all – permanent outdoor lighting that is perfect for customizing your home or business. Customers can choose from a wide range of design options like the installation method, color shade, brightness, pattern and more to elevate their space.
"These lights, although they look beautiful and they really make your house stand out, they also provide a convenience and a safety of not having to go out there and put lights up, take lights down," said Ryan Amoroso, who cofounded Leading Edge Decorative Lighting with Mike Genzlinger in 2020 after seeing a need.
"They also allow you to decorate at any time during the year for whatever event, whether it's a holiday or a personal thing like a birthday party or sports team or just anything they can think of. Then, beyond that, it can provide accent lighting year round. So, every day there's something that you can use these lights for."
Outdoor lighting doesn't always have to be icicle lights or flashy red and green bulbs. In fact, it's often the more subtle touches that really accentuate the property. Here are just a few examples of how accent lighting can be used to enhance your outdoor space.
A customizable ambiance
Whether you're lighting up your backyard patio, BBQ kitchen, pergola or outdoor bar, an outdoor lighting system will improve your nighttime aesthetics. Patio and backyard lighting can be used to create a welcoming space, as well as a space for entertaining.
Plus, with Leading Edge Decorative Lighting's permanent lighting system, you can create the perfect ambiance with the push of a button in the Oelo Lighting smartphone app and spend more time entertaining or relaxing outside.
With 14 different movement settings and 16 million hues, there are nearly infinite options for creating the right lighting. If you're hosting a party in the backyard but want to make sure guests can see where to go, you can program the lights to only turn on in the backyard and around the walkway to get there.
"You're also able to dim the lights and set the light color to match whatever you have," Genzlinger said. "Or, if you are annoying your neighbors on your left side, you can just turn off those lights."
The app also has a calendar feature that allows users to schedule holiday lights, making it a seamless, automatic transition from holiday lighting to accent lighting.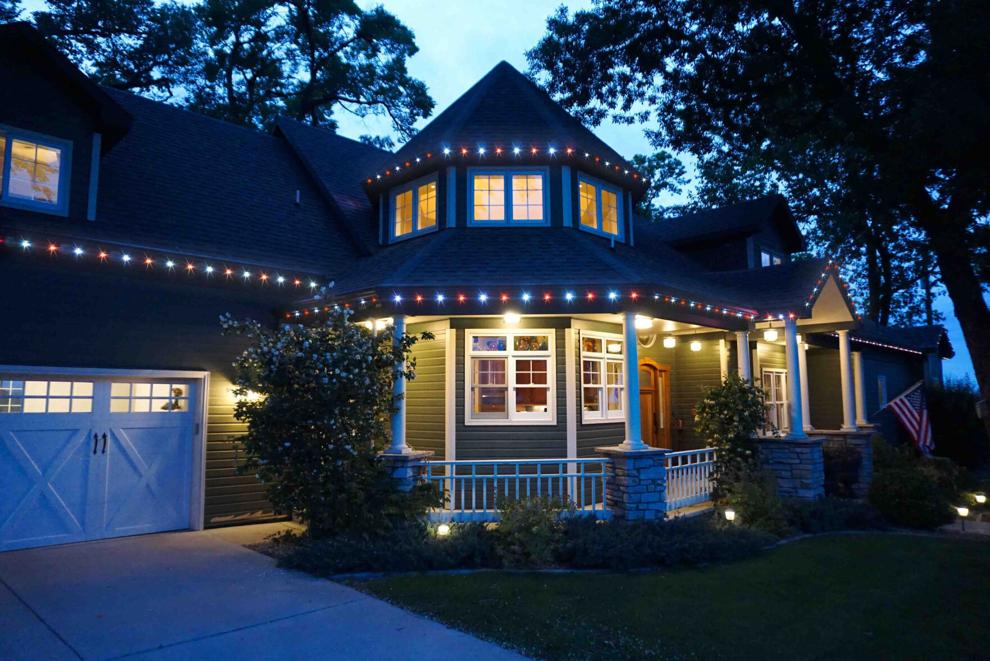 Added safety and security
Accent lighting easily doubles as your home's security lighting, which is an effective way to deter criminals and increase your home's security.
The Leading Edge Decorative Lighting system can be used to illuminate select LED's for security lighting along pathways or entries with the app's "spotlight" feature. If you're away for the night or expecting a late guest, that's no problem, as the app also allows users to program a timer and calendar to automatically come on and turn off at specific times. 
Customers have complete control over the lighting system, down to each individual bulb.
"You can choose from one of the preset patterns where one light is on every 3, 6 or 8 feet or choose which light you want on at a specific location," Amoroso said.
Plus, when it comes to safety, Leading Edge Decorative Lighting handles the installation, and once the lights are up, no maintenance is needed – which means no more climbing up and down the ladder for you.
A spotlight on architecture
Accent lighting is a simple way to highlight a building's distinctive architectural elements and can create a decorative and artistic effect. On the same token, it can be used to draw attention away from less appealing elements like the old tool shed off to the side or overgrown garden behind the patio.
This is an area where Leading Edge Decorative Lighting shines, as its various mounting methods can be used to illuminate specific features or the architectural design as a whole. Mounted with a slim channel design and an acrylic cover that is color-matched to the structure, the lights blend seamlessly into the structure.
Leading Edge Decorative Lighting also uses weather-resistant LEDs, which use approximately 80% less energy than traditional lighting. Additionally, the lights are rated for 100,000 hours, which "equals about 44 years when using the lights for about six hours a day," Genzlinger said.
Leading Edge Decorative Lighting services the greater Phoenix area and does residential, commercial and patio lighting. For more information, visit ledecorativelighting.com.
Leading Edge Decorative Lighting is part of the City Sun Times Preferred Business Program.