The Scottsdale Realtors Trade Association celebrated the year's accomplishments and geared up to start 2023 strong at a private ceremony in November which installed a new leadership team, recognized its Leadership Academy Class 25 and presented special awards. 
New president Chris Nace, president-elect Peggy Neely, vice president Allison Cahill, treasurer Stacey Krolak and immediate past president Sandy Lunsford were sworn in along with attending board members. New and returning board members for 2023 are Aaron Bils, Polly Blackwell, Allison Cahill, Riley Cilley, Jeff Dial, Allie Jennings, Polly Mitchell and Jessica Noble.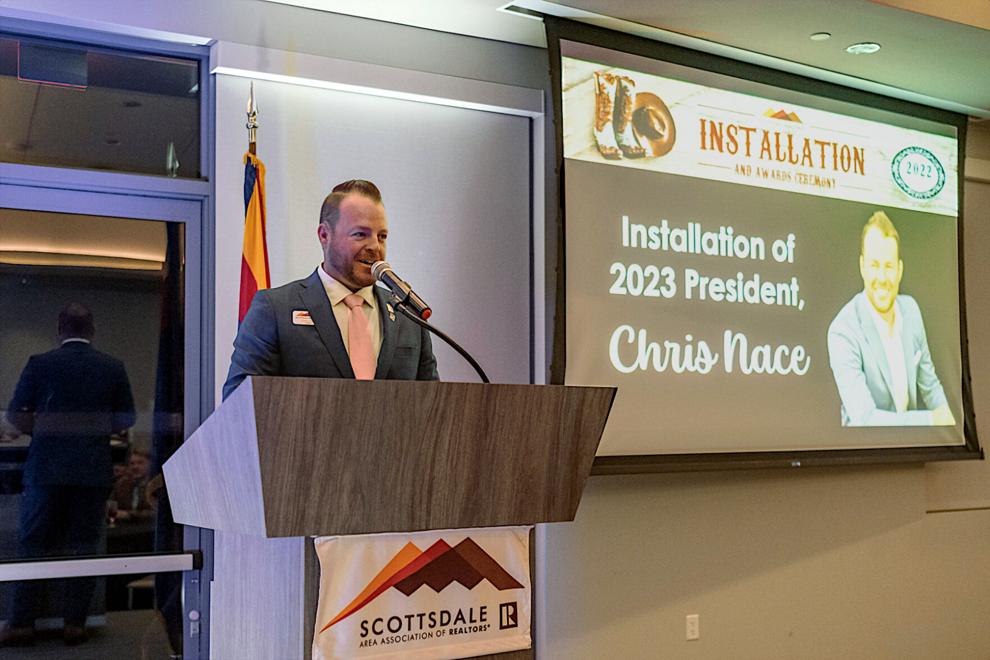 "Being sworn in by my designated broker, David MacIntyre, was an honor," Nace said. "He has 60 years of real estate experience and inspires me every day."
Nace said one of his goals for 2023 is to reenergize the association's Young Professionals Network (YPN). His 12-month term began Dec. 1.
Also recognized at the ceremony were members of Scottsdale Realtors Leadership Class 25: Laurie Cairns, Amy Dox, Cyndi Dunham, Lauren Fitzpatrick, Alexander Gonzalez, Stacey Krolak, Kimberly MacDonald, Racquel Miller, Kendal Mohr, Greg Mona, Raquel Moriki, Brett Nicholas, Stefano Pecci, Tara Riley, Nolan Rucker, Rachel Tarman, Hannah Warde and Erin Young.
Presentations were then made for special awards. Recipients were Shauna Huisman, Realtor of the Year; Chey Tor, Emerging Realtor of the Year; Pat Sheahan, Commercial Realtor of the Year; Helena Donahoe, Affiliate of the Year; Sabrina Walters, Caring Heart Award; and Christopher Groesbeck, landlord liaison for the City of Scottsdale, Citizen of the Year.
Established in 1963, the Scottsdale Area Association of Realtors is a 501(c)(6) nonprofit trade association with nearly 9,000 members serving Carefree, Cave Creek, Fountain Hills, Scottsdale and surrounding areas. For more information about the association, visit scottsdalerealtors.org.