GivingTuesday — a global generosity movement — inspires over 30 million people to come together for 24 hours of giving to address some of the world's most pressing challenges. On the Tuesday following Thanksgiving every year, people can bring about positive changes in their communities through charitable donations to their favorite participating nonprofit organizations — like Phoenix Children's.
Every day, children facing life-threatening illnesses and injuries come to Phoenix Children's seeking hope and healing. Whether they're battling cancer, heart defects or traumatic brain injuries, these children urgently need lifesaving care close to home.
This year, become a "Face of Hope" to all the young warriors facing the toughest battles of their lives at Phoenix Children's.
"On this #GivingTuesday, we are #GivingGratitude to each of you who have donated and made a difference at your local Children's Miracle Network Hospital. We are grateful for our fundraising partners, hospitals and donors who support our mission to change kids' health and change the future," Children's Miracle Network Hospital said.
"Donations go to local hospitals to fund critical life-saving treatments and healthcare services, along with innovative research, vital pediatric medical equipment, child life services that put kids' and families' minds at ease during difficult hospital stays and financial assistance for families who could not otherwise afford these health services."
For Phoenix Children's, the spirit of giving is essential to its patients and families. For instance, the Phoenix Children's community gave more than half a million dollars on GivingTuesday in the past three years to ensure children in Arizona and beyond continue receiving world-class care.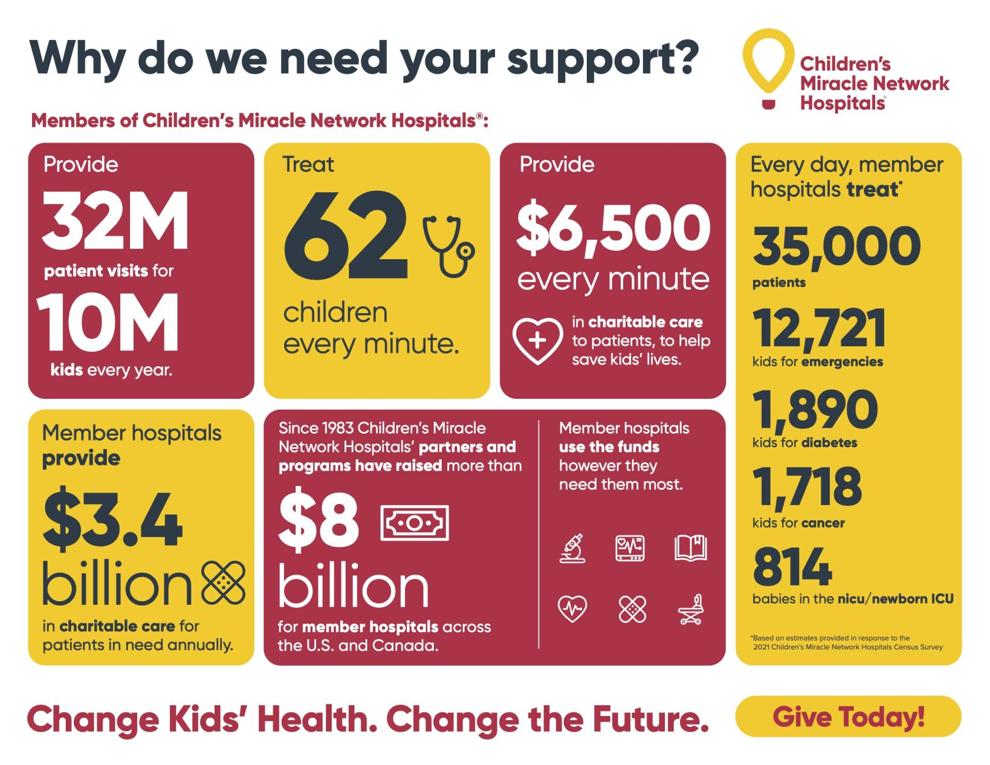 It costs $2.66 million per day to operate Phoenix Children's. All patients are accepted, regardless of ability to pay, and about 51% of patient families have little or no private medical insurance. Phoenix Children's relies on the support of generous donors to ensure that every child has access to the best health care — regardless of their family's financial situation.
Whether it's making someone smile, helping a stranger or neighbor, rounding up change at the register for a cause or making a direct donation to an organization, every act of generosity counts this holiday season, which is why the giving doesn't stop today. In fact, Phoenix Children's is in the middle of its largest fundraising event of the year — the Year-End Campaign.
Now through Dec. 31, local companies are matching donations to Phoenix Children's so that the hospital can raise critical funding before the end of the year.
Money raised through the Year-End Campaign goes to help fund tools and programs utilized by thousands of children and families — all with a unique story and journey.
One of those stories is that of a two-year old Scottsdale kiddo, Brooks. In the hospital from birth, Brooks was born with Tetralogy of Fallot. A rare condition caused by the combination of four heart defects. Transferred to Phoenix Children's at just a week old, he had open heart surgery when he was five weeks old. His team of doctors monitored him to try to get him to gain as much weight as possible. Brooks does physical therapy and feeding therapies at Phoenix Children's. Now, Brooks is on the move, riding his bike around the neighborhood.
One of the simplest ways to give to the Year-End Campaign is with the Arizona Charitable Tax Credit. Donations make a lifesaving impact on patients. Phoenix Children's is a 501(c)(3) organization that qualifies for the tax credit. When people make their gift to Phoenix Children's, they will receive a dollar-for-dollar tax credit on their Arizona state return – up to $400 for individuals and $800 for those filing jointly.
On GivingTuesday, donations can be made to the donor's cause of choice. Donors can choose to support the Hope Fund, which is essential to the hospital's most pressing needs or one of its award-winning centers like the Center for Cancer and Blood Disorders.
There are more than 70 Phoenix Children's programs and services funded entirely or partially by philanthropy, including:
To find more information or make a donation, visit phoenixchildrensfoundation.org.