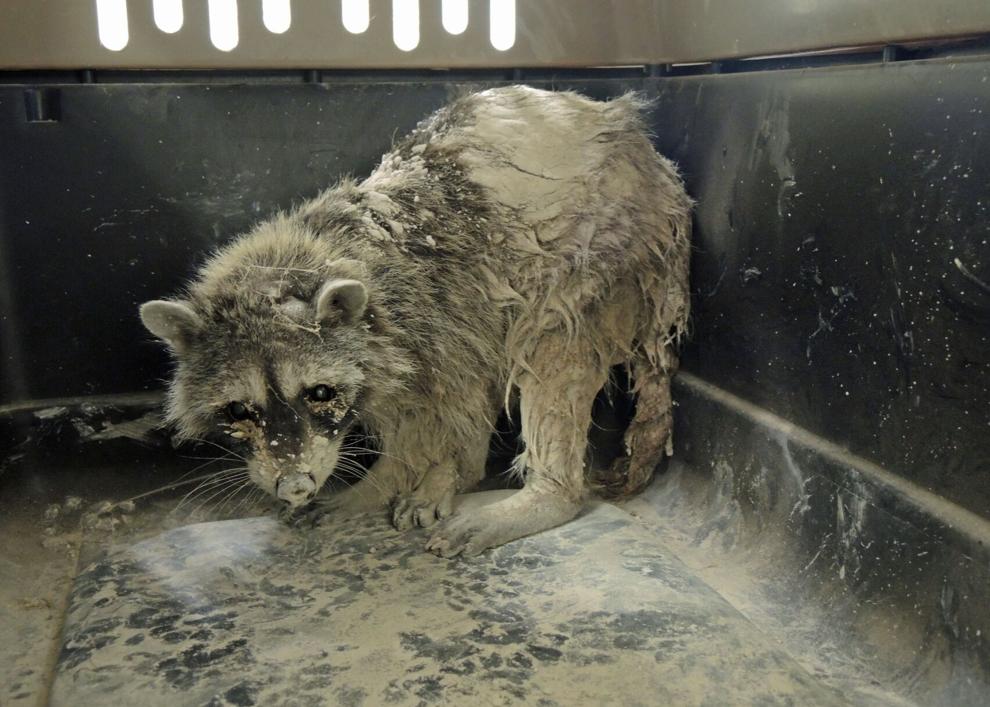 Imagine a raccoon stuck in wet concrete. The harder she struggled to free herself, the deeper she sank. As the concrete began to set up, she was losing body heat. It's a wonder she survived until our rescuers could get to her.
We'd never seen anything like it at Southwest Wildlife Conservation Center (SWCC). The only advice our vet tech could find to remove concrete was to soak the patient in vinegar water. But she needed IV fluids and warming to get her temperature back up to normal, so the soaking would have to wait. The real problem was that the warming was drying the concrete!
So, out came the electric razors, and we began to shave her. With the mix of wet and dry concrete the razors' blades dulled quickly and needed to be changed again and again! More than an hour later, with nary a blade to spare, the concrete — and the hair it stuck to — was gone. Only a hairless, dusty, white raccoon was left behind.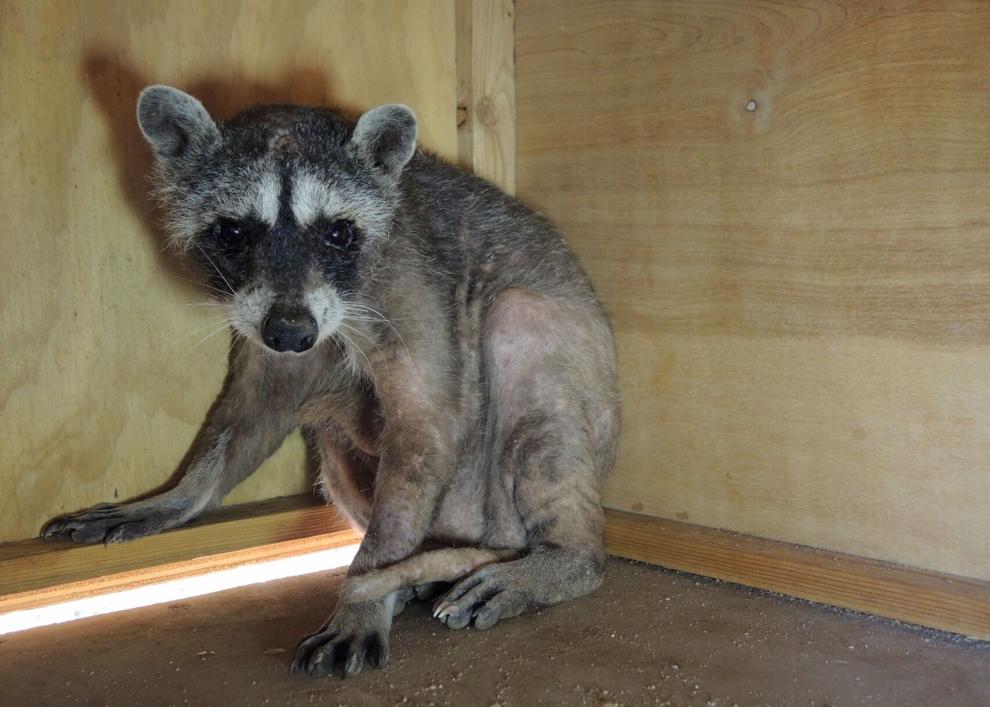 Luckily, the ensuing warm vinegar water worked miracles; the patient came out of her bath with healthy looking pink skin. We also determined she was a thin, older female who had raised babies in the past. She would need time and good medical care to recover. We were prepared to offer both.
In a few months she was healthy enough to be introduced to four orphaned raccoon babies. We hoped she might be a good foster parent for young raccoon kits in need of a mother's comfort — and she proved to be a good choice.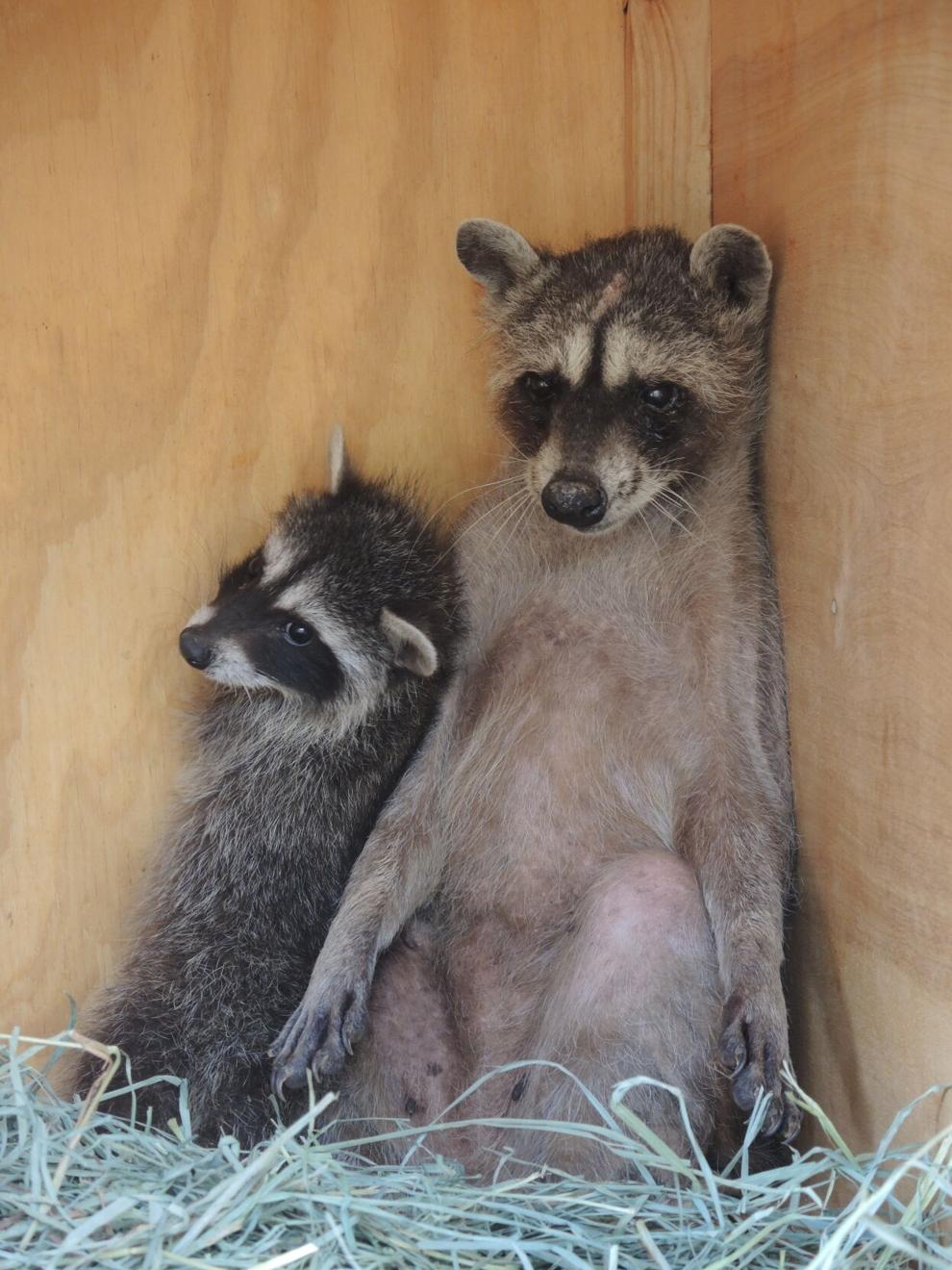 As she continued to recover, we moved her to a pre-release enclosure while we considered whether she too would be a good release candidate. While there, we noticed a laceration on her hip that hadn't healed. Inspection led to a diagnosis of Valley Fever, a fungal infection that occurs here in the Southwest. Considering her age and medical challenges, it was determined that it was best for "Gypsy" (from gypsum, one of the ingredients in concrete), to remain a permanent resident at SWCC. The good news is she has become a wonderful foster mother for orphaned raccoons.
This is just one story from thousands we have to tell about the wildlife who pass through our doors and live in our sanctuary. Book a tour to see the wildlife who live with us forever.
Southwest Wildlife Conservation Center
Location: 27026 N. 156th St., Scottsdale; Contact: 480.471.9109; southwestwildlife.org