In 2014, a little gray fox named Frankie was found running loose in Phoenix wearing a blue collar with a bell on it. Wild animals never make good pets, and now he was friendly to humans. Frankie's Southwest Wildlife roommate, a grey fox named Boots, was also previously kept as a pet. Both are now permanent residents at Southwest Wildlife Conservation Center (SWCC) because of their association with humans.
Gray foxes are medium sized foxes weighing an average of 9 pounds as adults. They are omnivores and mainly nocturnal. They get their name from the gray coat on their back, which extends to the tip of the tail. Their long legs and big ears are especially suited to the desert heat, and they spend the hottest hours of the day in burrows or shady, wooded areas. Because Grey foxes have semi-retractable claws, they are the only canine that can climb trees, climbing branchless, vertical trunks to the dizzying height of over 50 feet! This earns them the nickname "cat fox" or "tree fox."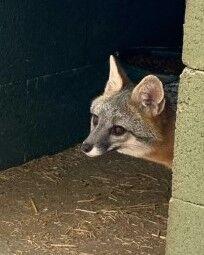 Unfortunately, because Frankie and Boots are imprinted on humans, they are unable to be released back into the wild. In nature, imprinting occurs when a baby animal's mother teaches them how to be a successful adult. Foxes learn to be a "fox," coyotes learn to be a "coyote" and bobcats learn how to be fierce little bobcats.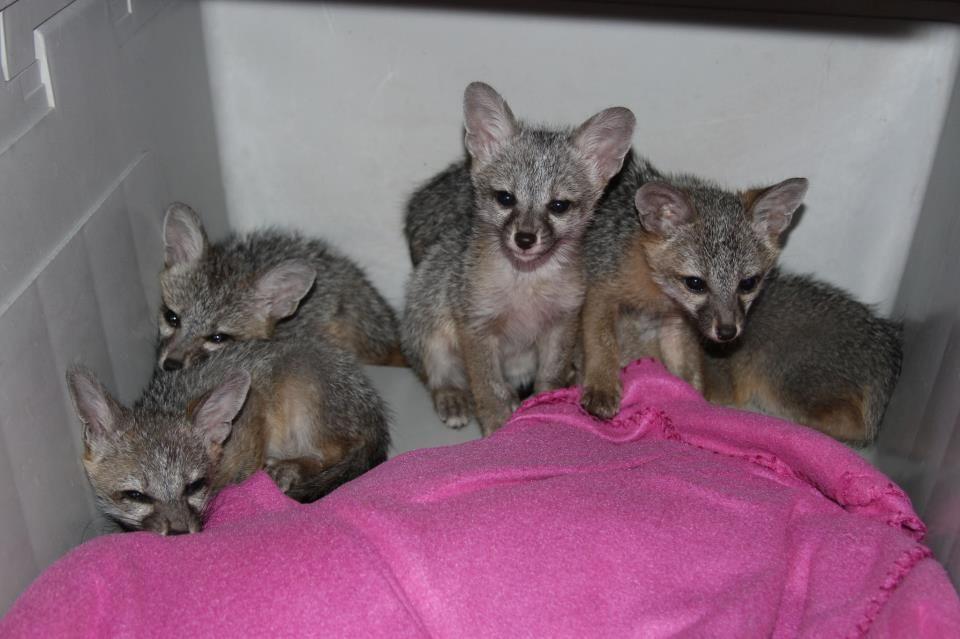 When a human feeds and cares for a wild baby animal, though well intentioned, the baby doesn't learn how to be a successful adult. The baby can become too friendly with humans and won't learn the skills to hunt, avoid predators and get along with others of its kind. Imprinted babies still have wild instincts and even the friendliest baby is unpredictable and not a good pet. Generally, the best thing you can do for young wildlife is to leave them alone. The mother is often hunting and can't take her babies, so she leaves them somewhere safe. If you have reason to believe a wildlife baby is orphaned, call Southwest Wildlife to come and help.
In the wild, Frankie and Boots wouldn't have fared well after being pets, but Southwest Wildlife gave them a second chance. They are both living a good life in our sanctuary and love to have visitors.