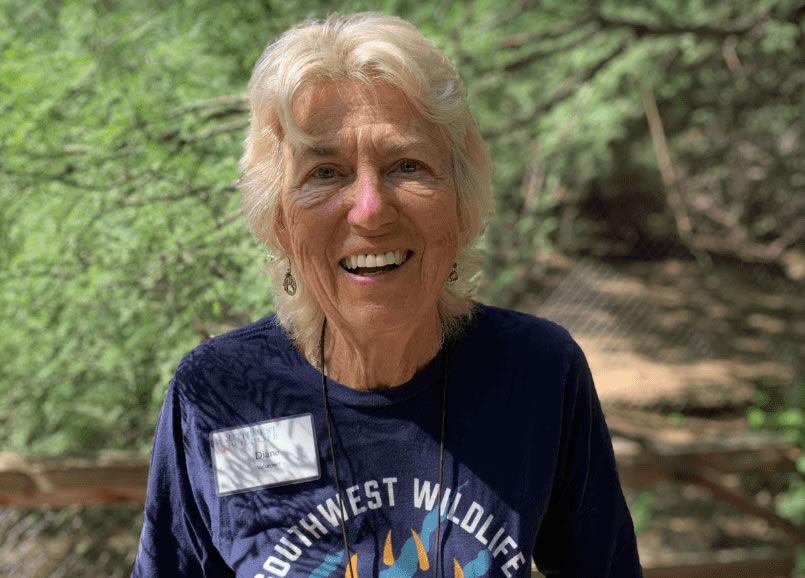 It was an emotional day at Southwest Wildlife Conservation Center (SWCC) when news came that volunteer extraordinaire Diane Vaszily had been named the 2021 Cox Conserves Heroes grand prize winner. Beyond the well-earned national recognition of the work that Vaszily does through SWCC, the honor comes with a $60,000 donation in her name to SWCC — a gift that the organization says will go a long way towards continuing their efforts to support area wildlife.
"We are truly honored that Diane Vaszily was chosen as the 2021 conservation hero by Cox Enterprises and The Trust for Public Land," said Linda Searles, executive director of SWCC. "The work Diane does to educate the public on the importance of wildlife in a healthy ecosystem and how to coexist with wildlife advances our mission to save our wildlife, one life at a time."
One Life at a Time
Established in 1994, Southwest Wildlife Conservation Center rescues native wild animals that have lost their homes to development, or are found injured, orphaned or abandoned. When possible, the animals are rehabilitated and released — healthy and wild — back where they belong.
Vaszily and team at SWCC help mountain lions, bobcats, skunks, opossums, black bears and other animals. About 80 percent of the animals — and nearly all of the infants — are released back into their natural habitats. Those that can't be released live at the center's sanctuary.
The news of the 2021 Cox Conserves Heroes win was gratefully welcomed.
"Our ability to rescue, rehabilitate, and release mammals of the Southwest and offer sanctuary for those animals who are non-releasable will be greatly impacted by this generous gift," Searles added. "These funds will also help us in the future as we work toward our goal of moving from our current 10-acre location to our future home: up to 100 acres in the McDowell Mountain Regional Park."
Honoring Unsung Conservation Heroes
The Cox Conserves Heroes program, operated in partnership with The Trust for Public Land, recognizes volunteers nationwide who create, preserve or enhance shared outdoor spaces in their local communities. Cox and The Trust for Public Land selected 12 regional Cox Conserves Heroes from dozens of nominations submitted this summer. The public then voted to select the grand prize winner. 
The James M. Cox Foundation will donate a total of $140,000 to environmental nonprofits selected by Cox Conserves Heroes, including the $60,000 to the Southwest Wildlife Conservation Center. 
The awards program was created as a way for these organizations to honor the unsung heroes in communities, as well as support the local organizations doing the important work of improving the environment. Through the program, the organizations hope to inspire more people to take an active role in community conservation.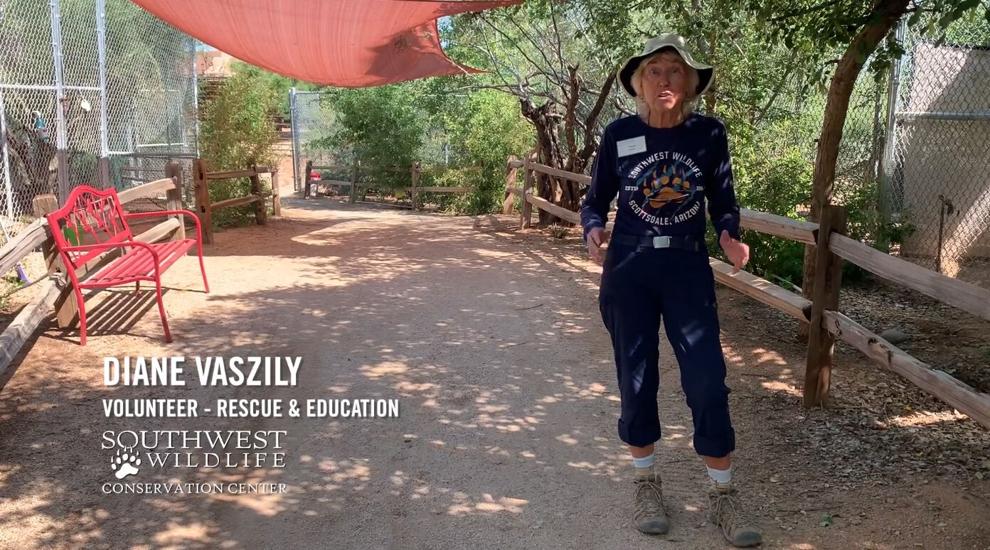 Building Future Generations of Land Stewards Through Volunteerism
Taking an active role in conservation is something that Diane Vaszily has been doing enthusiastically for decades. In addition to her work at SWCC, she has worked to support education efforts at the Desert Awareness Committee, a community resource advocate for the Sonoran Desert. She wrote curriculum for and initiated a hands-on classroom program using a team of volunteers she trained. As a Conservation Center volunteer, she serves as a docent, education curriculum writer and mentor for new volunteers. She created a field program at the local park and secured a grant to transport local students to a hands-on education program, formed a team to author a children's book about desert animals, and leads a team that provides public seminars and classes for other nonprofits.
Her philosophy: "If the next generation has first-hand contact with the environment and wildlife in a meaningful and positive way, those experiences will help them become better stewards of those lands and animals in the future."
And it is that philosophy, put into practice over many decades, that led to the 2021 award.
"We are in awe of Diane and the inspiring work she and other volunteers at the Southwest Wildlife Conservation Center do to preserve precious wildlife here while connecting kids and their families to the natural environment," said Percy Kirk, Cox Southwest region senior vice president and region manager.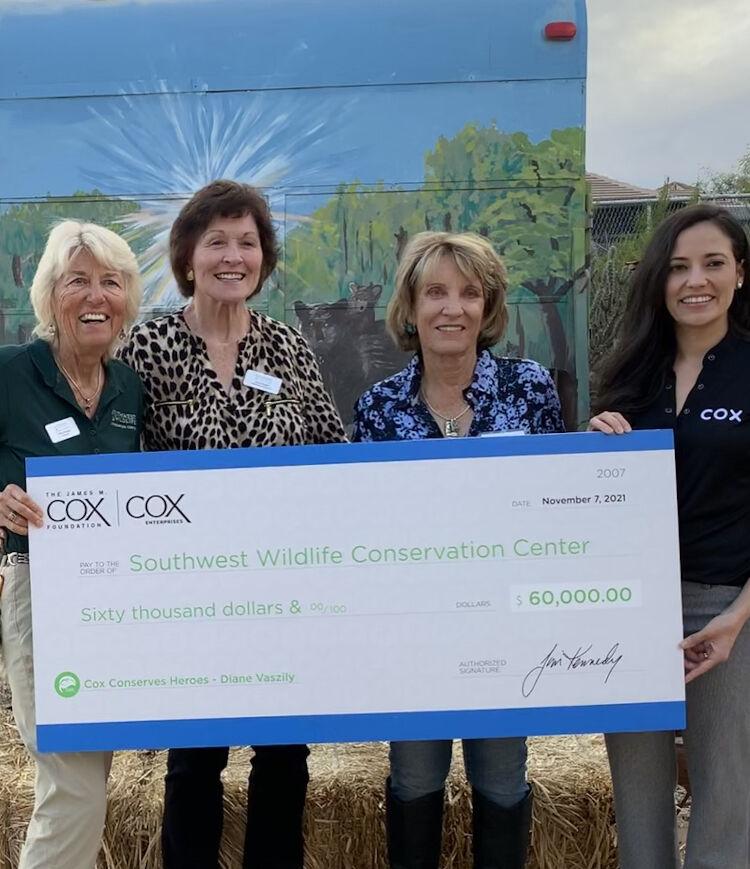 What Comes Next?
As for Vaszily, who says she is honored to have been chosen as the 2021 Cox Conserves Hero and grateful to those who voted for her, she is excited to continue the work that she and others do every day.
"I am ecstatic because I have spent 50 years educating about, promoting an understanding of, and creating a conservation ethic for the environment which surrounds us — from the wetlands to the deserts and the forests to the mountains and everything in between," she shared. "As a volunteer, I am truly thrilled to be able to put dollars into the hands of those whose mission it is to conserve our deserts and especially our wildlife."
Searles added her thanks to the organizations behind the program and to everyone who voted for Vaszily.
"Your incredible support makes Southwest Wildlife possible, and your passion and care for the environment will sustain our wild spaces for years to come." |CST