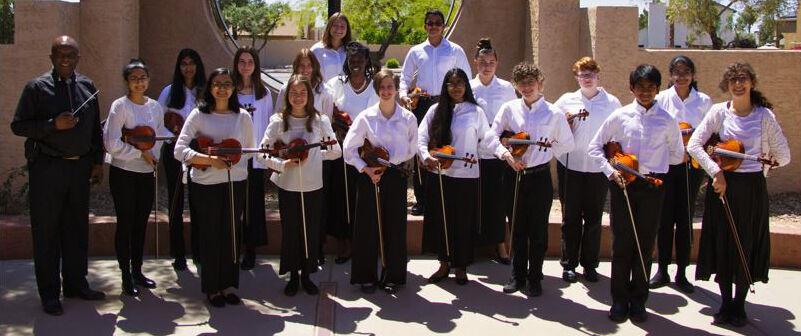 North Valley Symphony Orchestra (NVSO) will hold open auditions for the 2021–22 concert season, and musicians young and old who have a passion for performing exceptional orchestral music are invited to submit an audition video.
NVSO Youth Ensembles provide an opportunity for all levels of youth string players. Beginner (North Valley Symphonettes), intermediate (North Valley Youth Strings), and advanced (North Valley Youth Orchestra) ensembles are offered. NVSO Youth Ensemble auditions have been simplified and can be recorded from the comfort of home. After submitting an audition video, students will be placed in the appropriate ensemble to ensure a positive educational experience. Youth audition videos are due by Friday, Aug. 6.
Those who would like to check out the NVSO Youth Ensembles before committing to a full year can join them at their Summer Strings Camp, offered July 13–17. There is no audition required for the Summer Strings Camp. Participants will meet and work with the three NVSO Youth Ensemble directors, as well as having fun playing music with fellow students.
The NVSO Adult Orchestra is comprised of volunteer musicians from all walks of life who share a passion for rehearsing and performing exceptional orchestral music. While not a professional orchestra, they strive to a high standard of performance, and foster a spirit of community and camaraderie amongst their musicians.
NVSO performs four major concerts per year, and musicians have additional opportunities to participate in community outreach programs. Section and principal positions are available in the Strings, Woodwind, Brass and Percussion sections.
For a full list of available positions, visit the NVSO website at northvalleysymphony.org/adult-orchestra. Adult Orchestra audition videos are due by Sunday, Aug. 1.
Audition instructions and excerpts for each NVSO group are located at the appropriate "Join Us" tab on the organization's website: northvalleysymphony.org.