Fountain Hills, home to one of the largest public art collections in the state, formally dedicated its newest public art sculpture, erected on the corner of La Montana and Avenue of the Fountains, with a ribbon cutting ceremony on Jan. 26.
The piece, titled "Invert," was designed by Phoenix artist Craig Randich and was inspired by the famous fountain visible from this corner.
"The iconic Fountain, inverted, repeating pattern emphasizing its strength, grace and sense of movement, the shadow interacting with its surroundings," Randich said about the piece, his words captured on a plaque next to the sculpture.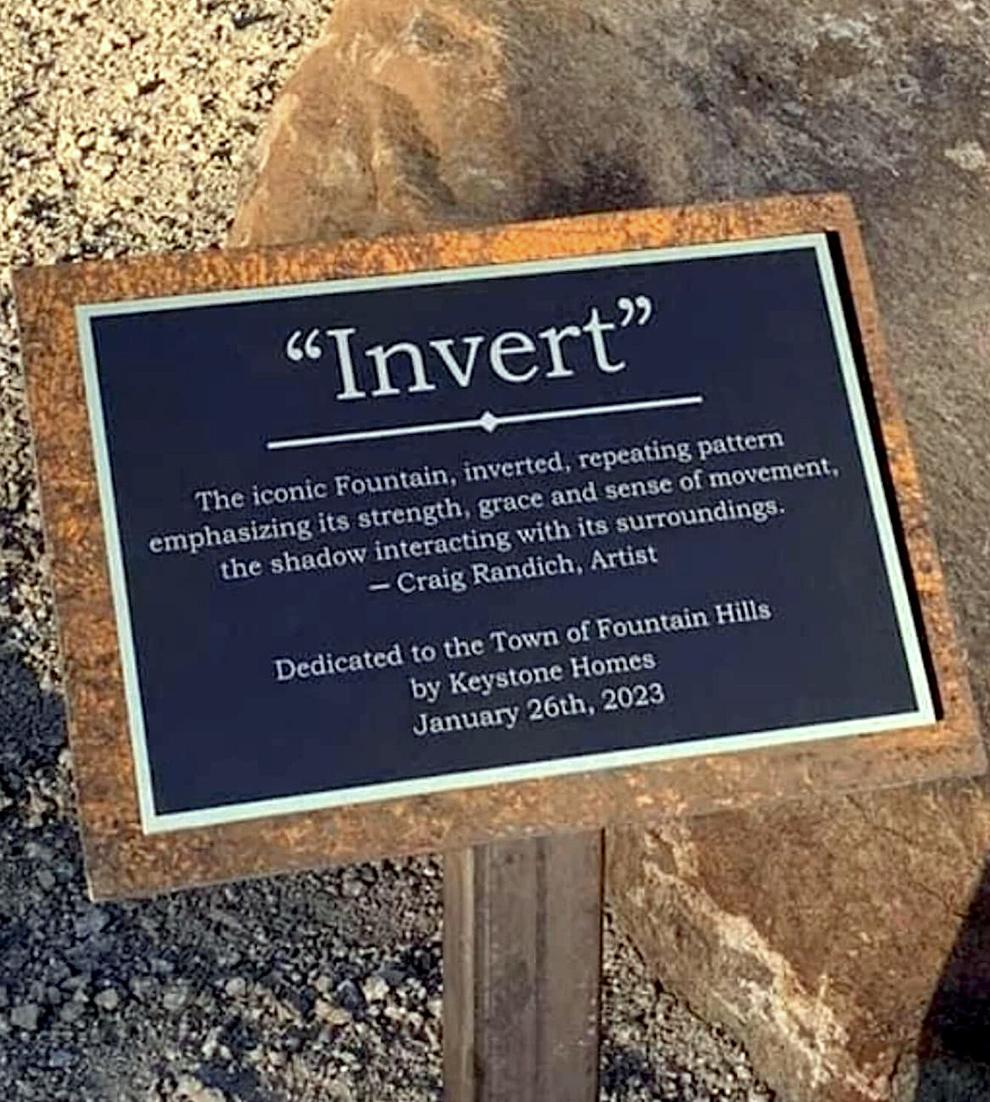 "Invert" was commissioned by Keystone Homes, developer of The Havenly Fountain Hills, a recently constructed single-family detached home community, as part of its development agreement with the Town of Fountain Hills.
The local Chamber of Commerce President and CEO, Betsy LaVoie, along with her entourage of chamber board members in their bright red coats, kicked off the celebration with a proclamation and a ribbon cutting ceremony.
Keystone Homes Director of Development, Chris Hundelt and President Rich Eneim, Jr. were present at the ceremony to formally dedicate the piece to the Town of Fountain Hills.
Randich was also in attendance, and assisted in the ribbon cutting.
Hundelt expressed his appreciation to all who were involved in making the public art corner a reality, including the Fountain Hills city personnel who are part of the Town's Arts Committee, with a special thanks to Rachael Goodwin and Patti Lopuszanski, both of whom were very involved in managing the art committee and the process.
Appreciation was also given to Jeff Oesterly with OEST Metalworks, who was the talented fabricator that literally made the artist's vision a reality and who was also in attendance for the festivities.
This new public art corner has pleasant desert landscaping that includes large shade trees and comfortable benches making it an ideal location for taking a break or meeting up with friends before heading down the Avenue of the Fountains to enjoy the wonderful shopping, dining and entertainment available nearby.