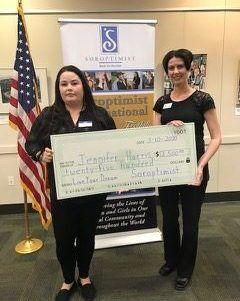 Jennifer Harris, Live Your Dream Award winner, and Gail Shriner, Live Your Dream award chair, SISF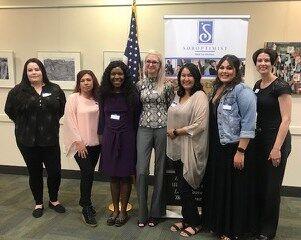 L–R: Jennifer Harris, Consuelo Pacheco, Primrose Dzenga, Melissa Doty, Caren Sandoval, Kat Montoya and Gail Shriner, SISF. Winners Lois and Ana not pictured.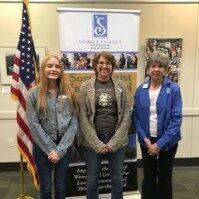 Emily Spencer with her sponsor, Beth Edwards, and Betty Lou Olmsted, SISF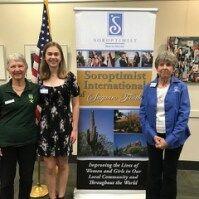 Jaclyn Russek and her sponsor, Barbara Hatch, and Bett Lou Olmsted, SISF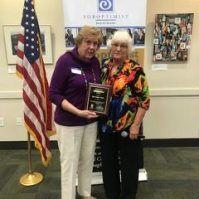 Soroptimist Ruby Award winner Lee Anne Park, and SISF presenter Ann Rice
At a time when good news is sometimes hard to find, Soroptimist International of Saguaro Foothills shared the result of its annual awards ceremony, held March 10. Awards money of $11,000 was distributed to 11 deserving women and girls.
The "Live Your Dream" (LYD) award was established in 1972 and is available to women who are financially head of household with dependents, demonstrate need, and are motivated to achieve their education and career goals.
Jennifer, the LYD award winner from Glendale, was awarded $2,500.  Jennifer has been attending Phoenix College and was recently accepted to Arizona State University Denny Sanford School of Social and Family Dynamics to pursue a degree in sociology. She works full time as a fraud investigator at UNIFY Financial Credit Union. In addition to pursuing her certified fraud examiner license, Jennifer has full time care of two family members and three children. Jennifer has been selected as a finalist in the Golden West region of Soroptimist International of the Americas and will win an additional monetary award at the regional level.
This year, the organization had seven runners-up for the LYD award, each of whom received $1,000. The runners up were Caren, Ana, Primrose, Consuelo, Kat, Lois and Melissa. Caren is a navy reservist and is pursuing communications at ASU. Ana is studying accounting at Rio Salado Community College. Primrose is a student at Barrett, the Honors College at ASU.  She plans to obtain a dual master's degree in global studies and creative writing to assist her goal of improving the lives of rural women in Sub-Saharan Africa. Consuelo is pursuing a degree as an accountant at Rio Salado Community College. Kat is a patient care assistant at Banner Health. She is presently enrolled in the nursing program at Gateway Community College and is also taking online classes at Northern Arizona University. Her goal is to become a registered nurse. Lois is pursuing a Bachelor of Science in psychology. Melissa is studying pre-med and is working to become a full-time physician's assistant.
The Soroptimist "Young Women's Service" award recognizes young women who make their community and world a better place through their volunteer efforts.  This program honors girls between the ages of 14 and 18 who contribute their time and energy to volunteer projects in their schools and community.  Each girl was awarded $500 along with $100 to their charity.  The award recipients this year are Maya Ochoa who volunteers at Veteran's Heritage Project. She told the assembled audience that "what I have learned from the veteran's I've worked with has been life-changing." Jaclyn Russek, who also volunteers for the Veteran's Heritage project, received the award: she feels her work with her charity has brought "new perspectives to how she sees the world." Emily Spencer was the third winner, and she volunteers at Wild at Heart. She shared this quote from Ghandi as especially meaningful to her: "The best way to find yourself is to lose yourself in the service of others."
The Soroptimist "Ruby" award honors women who have worked to improve the lives of women and girls through their profession and/or volunteer work.  This year's Ruby award winner is Lee Anne Park, who leads the Extra Special Art program at the Sonoran Arts League. Park ensures children with disabilities have the opportunity to communicate and express themselves through her adaptive art program.
This year's awards ceremony had local VIPs in attendance, including president-elect of SI of the Americas, one of five federations that comprise Soroptimist International. Also, in attendance were CCUSD Superintendent Debbi Burdick, Carefree Mayor Les Peterson and his wife, Mary, Carefree Vice Mayor John Crane, and Cave Creek Council members Susan Clancy and Kathryn Royer.
Soroptimist International is a global women's organization working together to transform the lives of women and girls.  The organization works at the local, national and international levels to improve lives through education leading to social and economic empowerment.
Learn more about Soroptimist International of Saguaro Foothills at www.sisaguarofoothills.org.
---
Photos courtesy of Soroptimist International of Saguaro Foothills