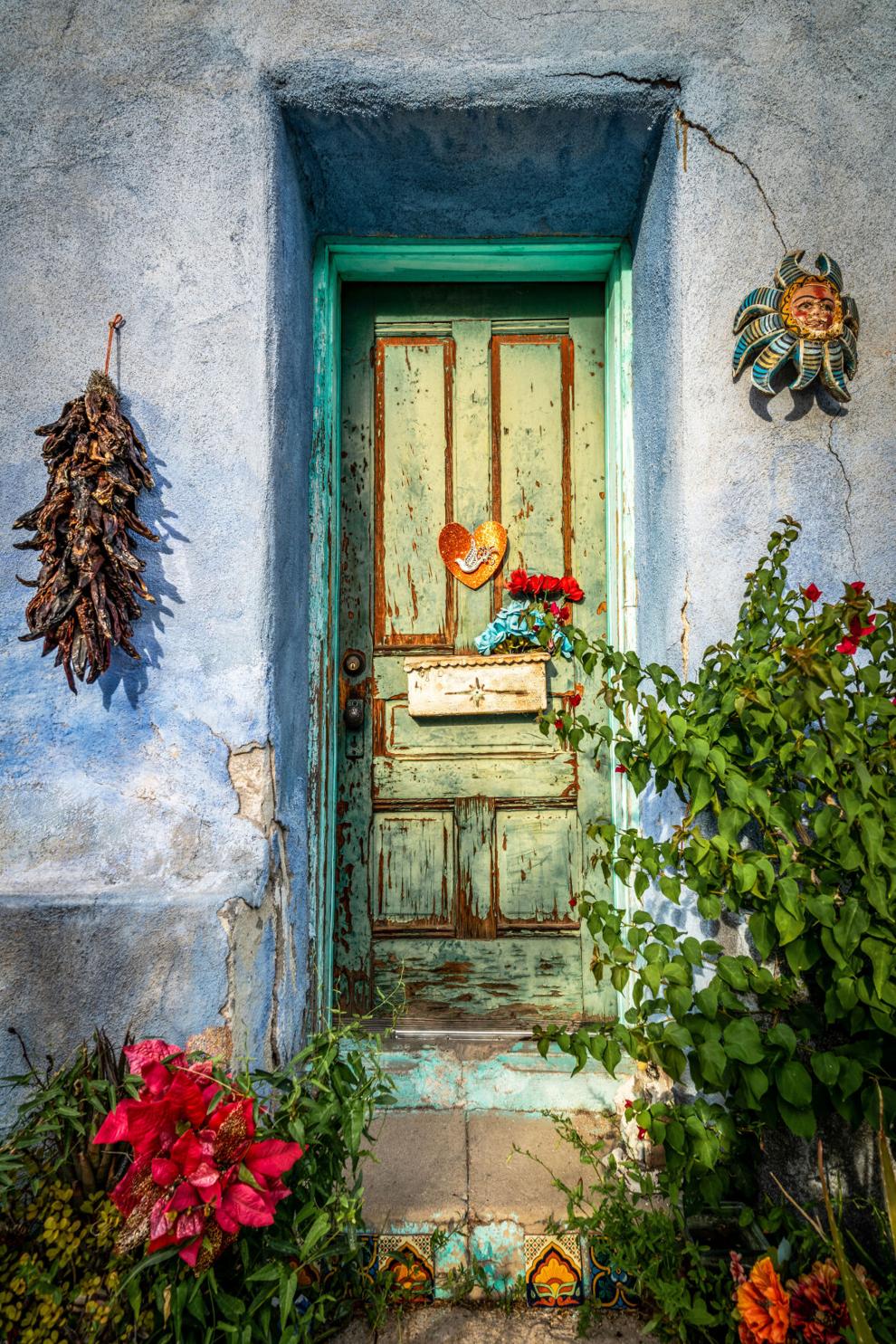 In July, Sonoran Arts League announced the dates for the 2021 Hidden in the Hills event, and revealed the artist who will be gracing this year's artist directory,
Hidden in the Hills (HITH) is Arizona's largest and longest-running artist studio tour, and it is scheduled to take place during the last two weekends of November: Friday, Saturday and Sunday, Nov. 19–21 and Nov. 26–28. This year's free, self-guided tour features 192 artists at 45 private studios throughout the scenic Desert Foothills communities of Cave Creek, Carefree and North Scottsdale. 
The League also announced that Jon Linton's "Barrio Viejo" photograph of the front entrance of a colorful adobe home will grace the cover of this year's highly collectible four-color artist directory. Linton is an acclaimed photographer and activist who advocates for the homeless and other underserved populations. He is best known for his "I Have a Name" street photography series as well as his serene and stunning black and white landscape photography.
This is Linton's first year participating in Hidden in the Hills. The talented artist will exhibit and sell his work at painter Stuart Yankell's studio in Cave Creek.
"Jon's photograph captured the sentiment of our 25th annual event beautifully," said Jane Boggs, a gourd artist and studio host who serves as the event's co-chair. "Now that the world is opening back up, we are eager to welcome collectors and art enthusiasts to our studios for what is sure to be a memorable artist studio tour."
HITH co-chair and mixed media sculptor/studio host Joanie Wolter said the cover art selection is also significant because it is the first time a photographer's work has been featured on the artist directory cover.
"We had many strong entries, but 'Barrio Viejo' really stood out," Wolter said. "It conveys a warm, welcoming message that resonated with us, and we're thrilled that Jon will exhibit his new work during the tour this year."
Jon Linton: Seeking Truth Through His Camera Lens
A Phoenix resident and well-known activist, Linton has been immersed in the art world for more than two decades. After graduating from Eastern Illinois University with a liberal arts degree in 1987, he went on to work for Ralph Lauren in New York City. A displaced Chicagoan, the former art magazine and book publisher has called Phoenix home for nearly three decades.
"Barrio Viejo" is atypical for Linton, who primarily exhibits black and white photography.
"I was reluctant to move away from black and white imagery. I've always felt that in the absence of color, you see a certain truth that is left behind. But "Barrio Viejo" did not feel honest absent color, and its truth provides new horizons," Linton said.
Linton said he was surprised and humbled to be chosen as the cover artist for this year's milestone Hidden in the Hills event.
"I'm honored and also moved by having my work highlighted in such a prominent way," he said. "By virtue of being selected as the Hidden in the Hills cover artist, I am already changing the trajectory of my career. I'm now inspired to expand my body of work to include additional imagery in color, and I'm looking forward to unveiling my new work during the artist studio tour."
Downloadable maps and details about participating artists will be available at www.hiddeninthehills.org. For details, call 480.575.6624.