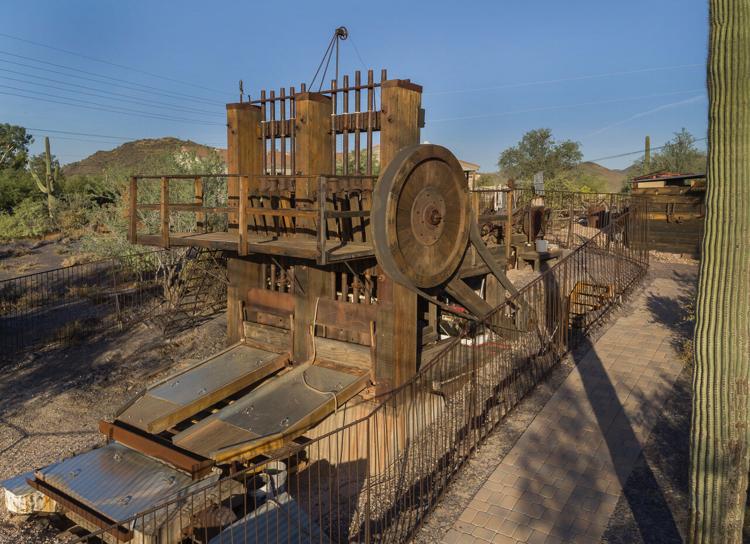 Tucked away near a dry creek, on a hill a few blocks from the center of Cave Creek, is a desert foothills treasure in the rough. It's the Cave Creek Museum and its resources in terms of culture, historical preservation, education, and entertainment are substantial. Those who discover it, like a miner back in the early days prospecting for gold, will be amply rewarded.
The Cave Creek Museum is the repository of the rich and highly varied history of the area. Native Americans, miners, ranchers, dude ranch guests, 1880's tuberculosis patients, artists, musicians, eccentrics and successful businesspeople have called the desert foothills "home." This is where all the records and artifacts are kept.
"We're in the position to provide that hands-on onsite experience that only a small museum can," explained Suzanne D. Johnson, interim executive director of the museum.
The museum's newly renovated Pioneer Wing is a look into the past and the future.
"We're telling familiar tales that people have heard in the past at the museum, but we're expanding from the 1860's to present day," explained Elizabeth Kapp, curator. "Yavapai life, mining and ranching, everything all the way up to the Ocotillo Fire. It serves as a visual explanation of how life has changed or not changed. It's how the people have enjoyed the same space for over 150 years."
The museum will officially reopen Nov. 18, celebrating the 2020–21 season opening with everyone who visits. The museum will be open from 11:30am to 4:30pm, including a very special Kitchen and Garden Boutique, hosted by Rita Treat. The Hibachibot food truck will be on site, selling the delicious Korean barbecue that its owners Virginia Schenck and Eddy Sparr are known for. Entertainment will be provided by Gary Sprague "The Singing Cowboy" and Dusty, his famous horse. Everyone is invited to stop by, if not on Wednesday, then for one of the monthly Stamp Mill demonstrations and Kiwanis Family Sundays or anytime.
Cave Creek Museum is located at 6140 E. Skyline Dr., and is open Wednesdays through Sundays, 11:30am to 4:30pm. Visit the museum website for all CDC-compliant guidelines: cavecreekmuseum.org.