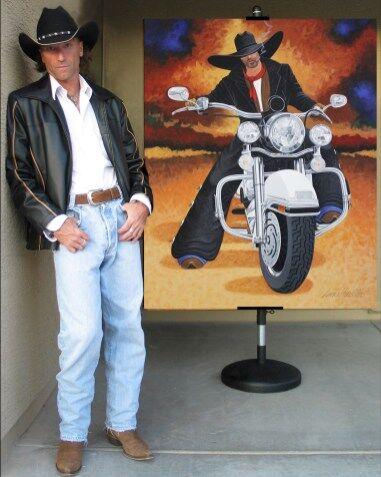 Artist Lance Headlee with "Steel Pony" – Original Acrylic on Canvas; 4' x 5'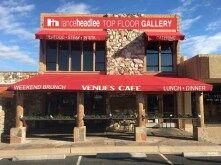 Venues Cafe and Lance Headlee's Top Floor Gallery at 34 Easy Street in Carefree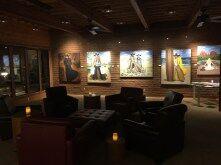 Lance Headlee's Top Floor Gallery at Night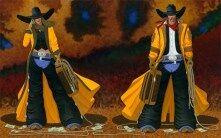 "Bonnie & Clyde" – Original Acrylic on Canvas; 5' x 8'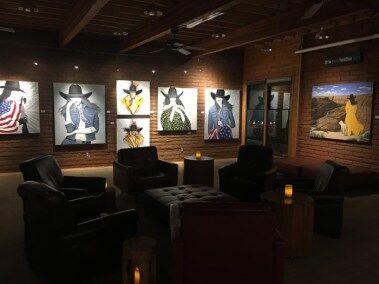 Lance Headlee's Top Floor Gallery at Night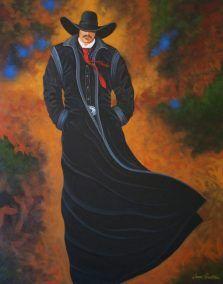 "West Bound" – Original Acrylic on Canvas; 4' x 5'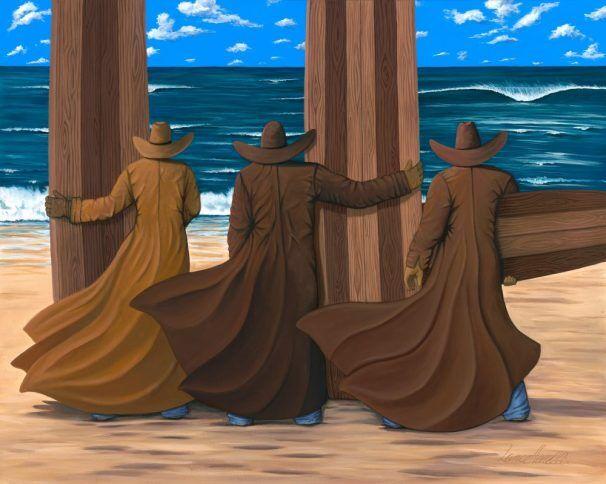 "A Long Ride West" – Original Acrylic on Canvas; 4' x 5'
Busy in his gallery at 34 Easy Street in Carefree is one of Arizona's most prolific contemporary artist. Above Venues Café — overlooking Easy Street with beautiful views of Black Mountain — is artist Lance Headlee and his Top Floor Gallery. Headlee's spacious gallery has high wood beam ceilings, large brick walls, candlelight and comfortable leather seating in a lounge-like atmosphere – as guests sip drinks, they are captivated and surrounded by large, beautifully illuminated original paintings like no other.
Venues and Headlee's Top Floor Gallery offer locals and tourist a unique vision of the New West they cannot find anywhere else in Arizona, according to Joy Elizabeth, event planner for Global Destinations.
"Venue's Café and Lance Headlee's large specious Top Floor Gallery is a new hot spot for locals and tourist. Global Destinations is booking the restaurant and gallery for dinner parties, private parties, group meetings and many other special events all the time. The Top Floor Gallery will soon be home to the new Venues Poker Club, Bottle and Brush two-hour paint and wine parties, Golf Tournament parties, Horse Race parties and many other fun events that will take place at the restaurant and gallery. There is something that is comforting about the old red brick building in the heart of Carefree. It is a beautiful building with a warm and inviting atmosphere where everyone likes to go to eat drink and enjoy the view and beautiful surroundings."
Lance Headlee has been bringing imagination to life applying paint to canvas for over 35 years. Headlee has been living in the world of fine art since the day when he was 8, and he watched his father draw a cowboy's face on a piece of paper.
"That moment in time changed me forever — creativity and imagination became my life," says Headlee.
After growing up in Colorado Springs and going to college for advertising design and fashion merchandising, Headlee moved to Manhattan Beach, California, where he began creating unique ideas for the apparel and swimwear industry to pay for canvas and painting supplies. As a self-taught artist living in California, Headlee would study fine art and famous painters, dead and alive.
Headlee explains, "To understand fine art and painting, I loved giving myself challenges to get better, I still do that today. I remember doing studies of photorealism. I would take pictures of the Manhattan Beach pier or lifeguard stands and then I would try to paint exactly what I was looking at. I would make the painting look exactly like the photograph. That's how I would get better…just painting all the time."
Headlee's work sold out at Horizon Gallery and Icon Gallery in Manhattan Beach during the 90's, but he felt the call of the Southwest, and moved to Arizona to get back to his roots painting the first thing he saw his father draw as a little boy — cowgirls and cowboys became his subject. Headlee stepped it up a notch, running in the opposite direction of traditional western images. He began painting large, stylized images of the New West, like "Bonnie and Clyde," "Wine and Roses," "A Long Ride West," "Steel Pony," and "Cowboy Caddy." Color and imagination are what strike anyone viewing one of Headlee's original paintings. The paintings are big, bold and in-your-face conversation pieces that are sure to stop people in their tracks. His images are distinctively original iconic images like no other. His palette is a mix of bright, vivid acrylic colors mixed with rich bold earth tones on large canvas. Cool, colorful, unique, fun, distinctive, original; these are some of the most common words used to describe his work.
One of Headlee's collectors shared that, "In the world of art it is rare when an artist can create one style never seen before, but Lance has managed to create several different collections with a style like no other."
But for Headlee, it is about much more than style.
"Even though I take painting seriously and I paint serious stylized subjects, I love throwing humor in my work sometimes just to mix it up. I love bringing smiles to people's faces through the artful fun of creative imagination."
Learn more: visit lanceheadlee.com  or venuescafe.com.
[This is an extended version of the article that originally appeared in the APRIL 2018 issue of CITYSunTimes.]