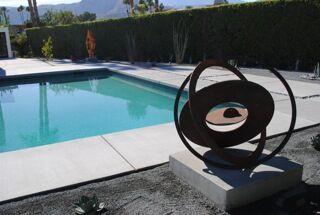 The Ted Phillip Denton Contemporary Art Gallery invites area residents to visit the gallery, and the other participating galleries in Carefree, during its First Friday Art Walk events (March 2, April 6 and May 4).  Meet diverse artists, enjoy refreshments and engage in conversation about art and architecture. In addition, participating galleries will pay for sales tax during Art Walk hours (4-7pm) for patrons who choose to purchase a piece of art.
Stroll leisurely through the beautiful village and Carefree Desert Gardens visiting all the participating galleries. Then cap off the evening with dinner — participating restaurants are offering a 10 percent discount on the tab if guests present a business card from a participating gallery.
At the Ted Phillip Denton Contemporary Art Gallery, meet Ted Denton and his wife, Joy Landau, and see Denton's newest metal sculptures cut with a water jet machine and then welded.
"So new that they have not yet been oxidized or powder coated," says Denton. "Here's an opportunity for you to express your thoughts for various pieces!"
Ted Phillip Denton Contemporary Art Gallery is located at 100 Easy Street, Suite 1, in Carefree. For more information, call 760.780.8484 or visit www.tedphillipdenton.com/studio.php.