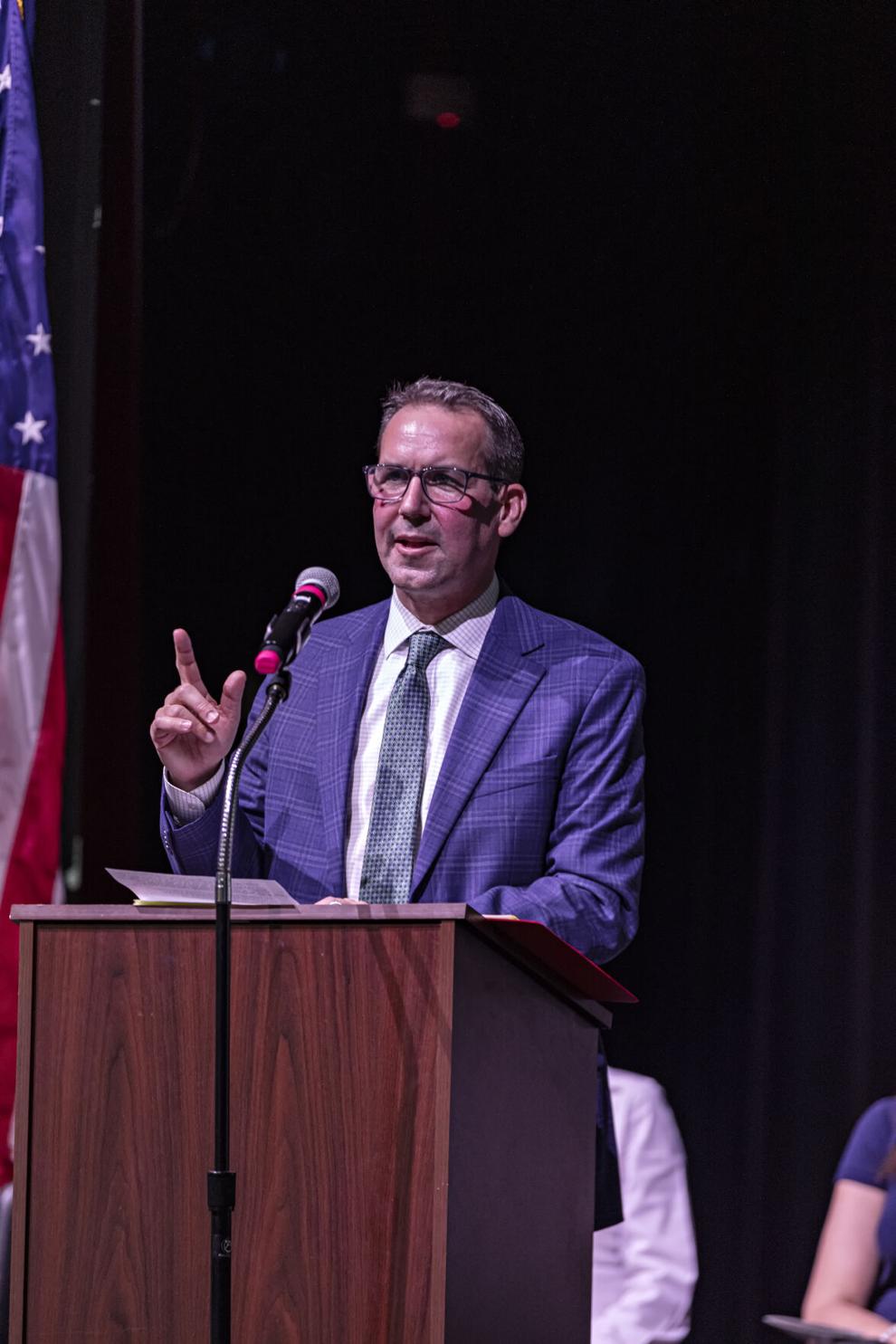 The Kiwanis Club of Carefree presented $249,000 in scholarships and merit awards to 23 deserving high school seniors, Tuesday, May 4. The recognition ceremony was held at the Cactus Shadows Fine Arts Center, and the students recognized represented four area high schools.
The Kiwanis awards are made possible through the collective efforts of volunteers and staff at the Kiwanis Marketplace in Cave Creek. The dedication of these individuals at the Marketplace allows the organization to support children and students in their community. Providing support to the children in the community would not be possible without the generous donations from the community to the Marketplace.
At the May 4 ceremony, Kiwanis president, Kimberly Marie Jack, introduced Pastor Mike Johnson, who offered the invocation and timely words to the awardees. Dr. Cort Monroe, superintendent of the Cave Creek Unified School District, provided inspiring words to the students and those in attendance.
Janet Busbee, the scholarship chair, introduced committee members Scott Brown, Jack Mahay, Gene Orrico, MariaElena Rizzo and Susan Uhl. 
The presentation of scholarship and merit awards included:
Art & Humanities Merit: Mia Milinovich and Allison Van Stone   
Foreign Language Merit: Jessica Brashear, Keagan Neff, and Emily Watters
Math & Science Merit: Hannah Steward
Athletic Merit: Bennett Allan, Benjamin Stoutenburgh, and Ashley Strouse
2-Year Scholarship: Kolten Sauber
4-Year Scholarships awarded: Miah Thirion (Jim Shaw Memorial Scholarship), Luke Hernandez (Rockford Scholarship), Landen Argabright, Christopher Fletcher, Alexandria Koklys, Isabella Koklys, Anya Lang, Sage Lewis, Ethan Mock, Gianna Palanzo, Nicole Quenzler, Mia Sabbara, and Mackenzie Zoerb
Hospitality Committee members who assisted at the event were Orrico, Arron Vasquez, Remi Pettus, Jackie Perry-Brown, Robin Crane-Cochran, Joyce Jordan, and Alexis Popovich. Kiwanis president-elect Joyce Jordan provided the closing remarks.
To learn more about the Kiwanis Club of Carefree, visit kiwaniscarefree.org.