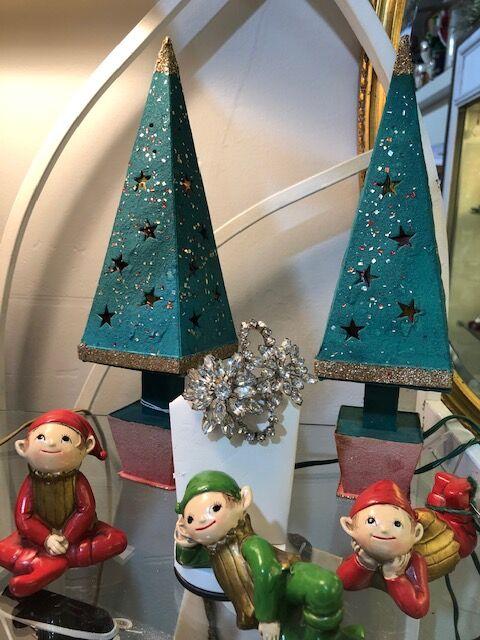 Bilinda's Vintage Treasures features an eclectic collection of antique furniture, crystal lighting, period mirrors and accessories, collectible mid-century jewelry and pearls, cowboy boots and hats, postcards dating from the early 1900s , a terrific cigar case circa 1940s, and so much more. Shoppers will find one of the largest collections of rosary beads and vintage Christmas decorations in this antiques and vintage collectibles shop.
Bilinda's opened in October by long-time antiques dealer Linda Bigos in collaboration with husband Bill, whose motto, "Always an adventure," applies so well to this shop.
An antique armoire dated 1812 and signed with the initials of the newlywed couple is a centerpiece in the shop located at Los Portales Mall (Suite 201) in Carefree. A European two-door painted chest on stand is amazing in its craftsmanship and design. Accent pieces in glass, an array of mid-century glassware and pottery, including Roseville, and teacups and saucers, are offered. A highlight within the lovely Queen Anne style china chest is "Romance of the Stars," a beautiful USA 1959 pristine set of china with platinum accents.
"You will cherish this beautiful set of mid-century dishware for a lifetime," Linda shared. Looking for farmhouse collectibles? Find large and small farm tables, wood kitchen tools and vintage tins for any collection.
The treasure chests at Bilinda's Vintage Treasures are filled with one-of-a-kind collectibles including antique skeleton keys, tin and lead soldiers, fountain pens, lighters and accessories, Christmas décor and more.
Bilinda's Vintage Treasures is open Wednesday through Saturday from 10:30am–5pm, and on Sunday from noon–4pm.
For additional information, call 602.732.8866 or find Bilinda's on Facebook.