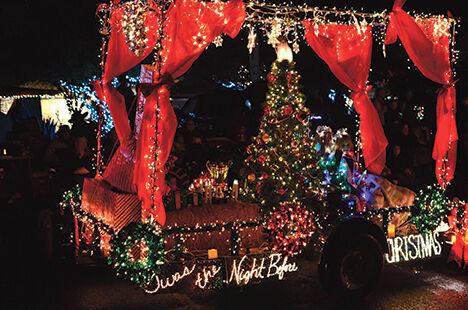 All activities are centrally located in the Carefree Desert Gardens, 100 Easy Street, and run from 10am-9pm on Friday and Saturday, and 10am–5pm on Sunday.
Spectators line the streets for the festival's signature Electric Light Parade and its brilliantly decorated floats. Other spotlight events include a dazzling evening fireworks display.
Families will appreciate the expansive Kid's Zone that provides entertainment for all ages, including 35 tons of real snow, a snow slide, Santa's Grotto, train rides, night time carriage rides and other amusements.
This year's event features live music performances by the Salvation Army Brass Band, Kelso Brothers holiday jazz group, Dickens Carolers, as well as community church choirs.
Other performances include theater acts from the Desert Foothills Theatre including a traditional live nativity scene where families are invited to have their photos taken with the cast of "The Holy Night," including Joseph, Mary, Baby Jesus and Pepper the Donkey.
On Sunday, attendees are invited to dress their pets in their holiday best and participate in the pet parade and pictures with Santa. Hosted by Foothills Animal Rescue (FAR) pet adoptions will be available on site.
This dazzling annual event has grown into a Northeast Valley holiday tradition. Additional highlights include a lighted holiday village with daytime and late night shopping, and vendors with homemade confections and delicious seasonal fare.
Carefree resident Laura Shutt has been attending the Carefree Christmas Festival since it began in 2006, "I have watched the festival grow year after year," she says. "It is truly a community event where local businesses get involved to help celebrate the holiday season. I always make sure I am here for it, there really is nothing better than 70 degree weather and snow."
Carefree's four-acre desert botanical gardens provide a stunning backdrop for the event. The winding paths showcase thousands of exotic plants and cacti that are illuminated for the festivities.
For more information, call 480.488.2051 or visit www.carefreechristmasfestival.com.
---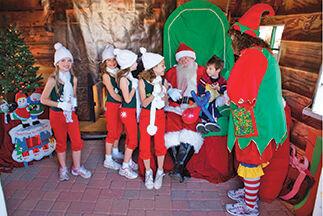 10am-9pm: Gift Market and Holiday Food Court
10am-12pm: Kevin Glenn Chorus
12-2pm: Salvation Army Brass Band
2:30-3:30pm: Dickens Carolers, Christmas Around the World
3:30-5:30pm: Rock the Holidays – performers from local school district
4-9pm: Kid's Zone with real snow
5:45-6:45pm: Kelso Brothers – holiday jazz music
6-9pm: Lighted Carriage Rides around Carefree
7-8pm: Community choirs from local churches
Saturday, December 12; 10am-9pm
10am-9pm: Gift Market and Holiday Food Court
10am-9pm: Kid's Zone with real snow
10-11am: Adage Dance Company, "Jingle Bells Jingle Bells Dancing all the Way"
11:30am-1pm: Desert Foothills Theater, Medley of Theater Performances
1:15-2pm: Storytime with Mrs. Claus
2-3:30pm: Kevin Glenn Singers present "Sing, Sleigh Bells Ring"
3:30-4:30pm: Desert Hills Presbyterian Church presents Nativity Story & Community Sing-Along
5-9pm: Holiday Party with DJ Robin Sherman
6pm: Electric Light Parade and Fireworks Extravaganza, sponsored by APS
Sunday, December 13; 10am-5pm
9am-12pm: Pet Parade – presented by Foothills Animal Rescue (FAR)
10am-12pm: Pet photos with Santa
10am-5pm: Gift Market and Holiday Food Court
10am-5pm: Kid's Zone with real snow
11am-3pm: Kiddie train rides
12:30-2pm: Desert Cactus Kickers and AZ Dance Group
2:15-3:15pm: "Elf on the Shelf" Arizona Dance Artistry
3:30-5pm: "Nutcracker Excerpts" Phoenix Youth Ballet Theatre
Events are current as of time of publication. Check for updates at www.carefreechristmasfestival.com.