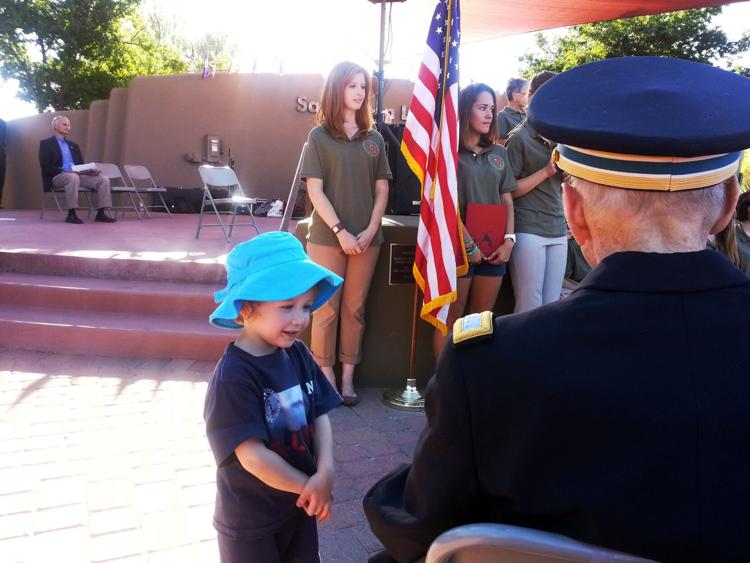 The Town of Carefree will host its ninth annual Veterans Day presentation and musical tribute Saturday, November 11, 3–5 pm, in the Sanderson Lincoln Pavilion, located in the Carefree Desert Gardens, 101 Easy Street, in Downtown Carefree.
The event will feature a mixture of patriotic and military music by Todd Knowles and his Main Event Swing Band. World War II veteran Colonel Blaine Keith, U.S. Marine Corps retired, will lead the Pledge of Allegiance. Special speakers will include veterans of the armed forces, including World War II veteran, Captain Lew Jenkins, U.S. Army, who will share their experiences from the past. This year the program will include a bagpipe rendition of "Amazing Grace." And, by popular request, the finale will once again include the bugle call, "The Last Post," followed by "taps" on dueling bugles.
Barbara Hatch, founder of Veterans Heritage Project (VHP), will be in attendance with students from Cactus Shadows High School (CSHS) and Sonoran Trails Middle School (STMS), whose VHP chapters are now in the capable hands of two volunteer adviser/teachers: Bret Lineburg (CSHS history teacher), and Shannon Griffith (STMS English teacher). Their exhibit and books will be on display and for sale. Hatch is one of the recent recipients of the Hon Kachina Award for "improving the lives of others in her community." Veterans Heritage Project students can now be found interviewing in 27 schools in Arizona, as well as one in Hatch's Illinois hometown and a pilot program in Niceville, Florida. VHP will publish six editions of Since You Asked this year.
The Sonoran Arts League will share information about its Veteran Art Program. The Desert Foothills YMCA will discuss their veteran support programs. The Association of the United States Army will have a representative available to assist any veterans with questions. The Carefree Kiwanis Club will provide light refreshments and coffee from the Carefree Coffee Roastery with assistance from the Black Mountain Foothills Chapter of the Daughters of the American Revolution.
All area residents are invited to attend and enjoy the special presentations and join in the opportunity to honor those who have sacrificed for all. For more information, visit www.carefree.org or call 480.488.3686.