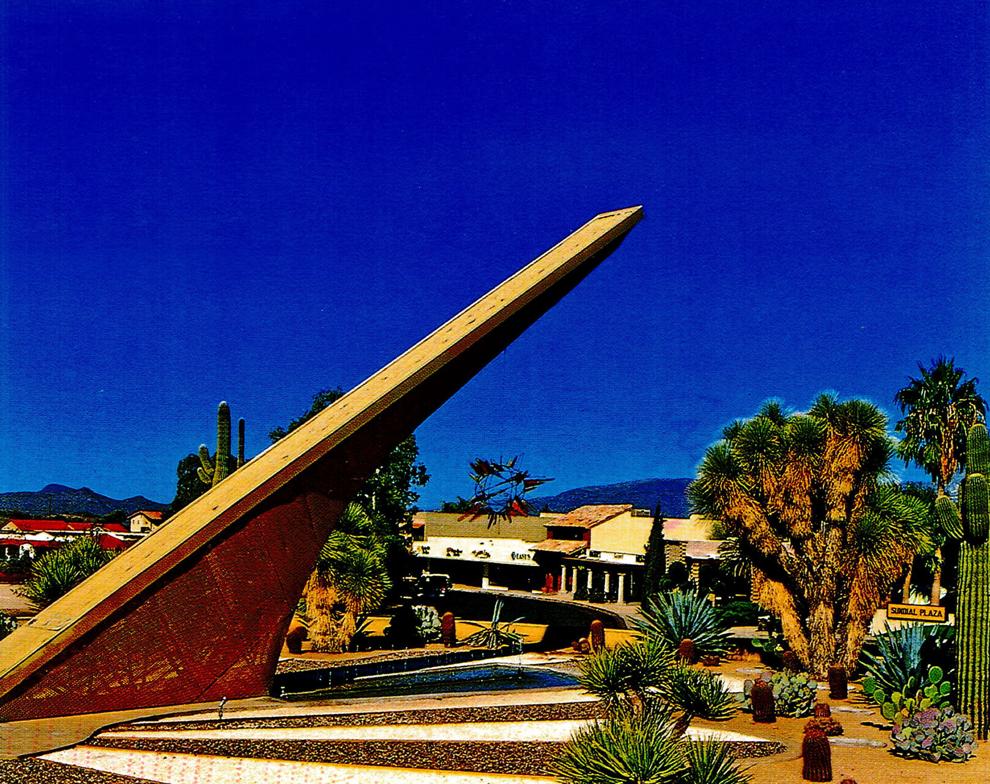 "Carefree —Where the Sun Marks Time." Although Carefree was incorporated in 1984, the Carefree Sundial has served as a beacon and focal point since 1959. Town founders, K.T. Palmer and Tom Darlington enlisted architect Joe Wong and solar engineer John Yellot to design the Sundial. Far ahead of its time, the Sundial included a solar water heater providing heated water to the nearby Darlington-Palmer Building, which now serves as the Carefree Town Hall.
A close examination of Sundial photos from its early years reveals a Sunburst hanging at the midway point of the gnomon (the vertical extension). The Sunburst hanging from the Sundial is even captured in our town seal. Legend has it that the colored glass of the 7 feet wide, wrought iron Sunburst celebrated our desert sunshine and glowed beautifully in the morning and evening light above a pool of water, but the elements took a toll. The Joe Wong designed Sunburst enjoyed a short life. In 2004, when the Sunburst was determined to be beyond repair it was donated to the Cave Creek Museum where it resided outside for many years.
The impetus for change often comes from an unsuspecting source. A few years ago, after many years safeguarding the Sunburst, the Museum returned it to the Town of Carefree. Broken and battered, the Sunburst took up residence in a corner of a Town garage. Then, in 2019, a Carefree resident, who prefers to remain anonymous, took it upon himself to return this misplaced, but not forgotten, historic and iconic art piece to its rightful place.
Design support was enlisted from architectural firm SRA 360, David Bixler & Associates Engineering, construction support from HarshCo Waterjet to precisely cut metal and glass, the Cave Creek Welding Company for the metal structural supports of the new Sunburst, and GM Hunt Builders and Remodelers to hang the Sunburst. In the same spirit of giving that motivated the Kiwanis Club of Carefree to donate the Sundial to the Town of Carefree many years ago, each of these supporters often donated their expertise, labor, and materials. Today, a reincarnated Sunburst, dimensionally identical to the original Sunburst, but made with an improved design and modern materials, is poised to be installed after a nearly 20-year hiatus.
In mid-March, the unique and beautiful Sunburst will be returned to its rightful place, hanging from the Carefree Sundial gnomon, colorfully reflecting Sonoran Desert light. A formal dedication will be announced soon.
But in the meantime, come to Carefree and enjoy a resurrected piece of historic, reborn art along with the Carefree Desert Gardens, our walk-friendly streets, and our many restaurants, including the newly opened Greek-inspired, Mediterranean Athens on Easy Street, as well as many fine art galleries and shops.
I hope to see you there.