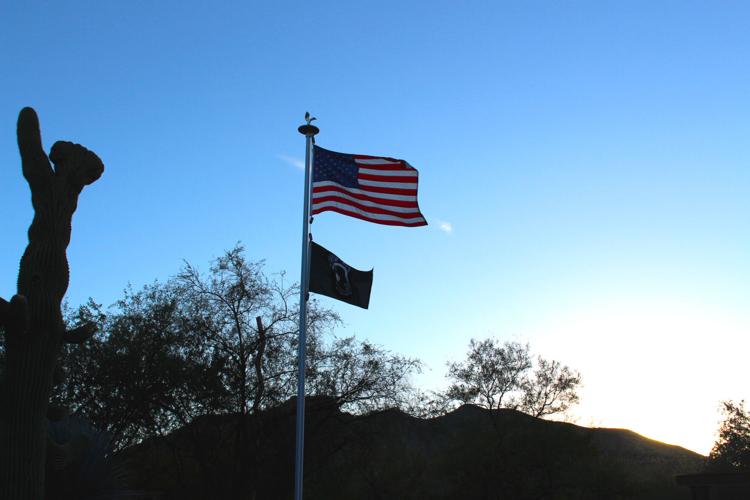 The Town of Carefree is offering a respite from the anxiety and stress that has permeated much of our recent lives. This November the Town is offering something we all can feel good about — opportunities to honor our veterans.
Early November is a time to remember our veterans and thank them for the sacrifices they have made to preserve our freedoms and way of life. Carefree has always been a veteran-friendly community. Year after year we salute our veterans on both Memorial Day and Veterans Day. Just in time for Veterans Day, a Veterans Memorial, the culmination of a year-long, grass roots and 100 percent donation funded project, managed and designed by local veterans representing each service branch, will be completed in the Carefree Desert Gardens.
This team of veterans worked to create a memorial where veterans will be honored every day. Veterans, and their families and friends, will now have a place to contemplate their service. If accompanied by a spouse, children or grandchildren, veterans can recount their experiences and share their service to their country and their values. Guests can sit and contemplate what veterans have sacrificed and done for them.
U.S. Army veteran and Carefree resident, Mike Ferrell, speaking about his experience in leading the Veterans Memorial effort, noted that, "So many who have served or who have a family member or friend who has served want to be a part of the memorial. The Carefree Desert Gardens are a perfect place for it. This is a really special memorial in a beautiful place and many people have told me they are looking forward to the events this Veterans Day."
While working within COVID-19 CDC guidelines and government mandates, Carefree will offer other November opportunities to honor our veterans.
Veterans Day, Wednesday, Nov. 11, will begin at sunrise, 6:57am, when Boy Scouts from local Troop 603 will raise the flag at the Veterans Memorial in Carefree. Then, throughout the day until 4pm, with a special focus at 11am, 1pm and 3pm, visitors will be invited to spend time at the Memorial, chat with a veteran who helped design and build the Memorial, speak with other vets and become acquainted with local veterans support organizations such as the Veterans Heritage Project, the Black Mountain Foothills Chapter of the Daughters of the American Revolution, the Association of the U.S. Army, Institute of Healing of Memories and American Legion Post 34. Visitors are asked to social distance and wear masks.
The fact is, we have a lot to feel good about. Please join us on Veterans Day, Nov. 11, as we honor our veterans. Or, simply stop by the Veterans Memorial any day and contemplate what we all should be thankful for.
---
This is an excerpt of Vice Mayor Crane's column that ran in the print edition of the NOVEMBER 2020 issue.