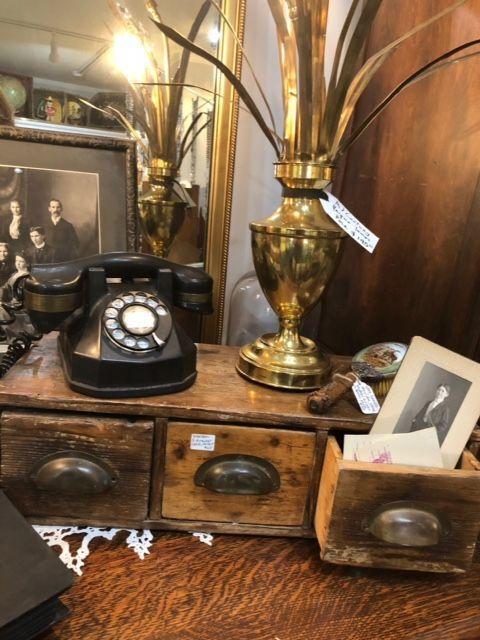 When longtime antiques dealer Linda Bigos decided to move from a successful business in a Scottsdale co-op antique mall to her own shop, Carefree seemed like the ideal location. And Los Portales Mall at the corner of Easy Street and Ho Hum Street had many empty suites and just the right ambiance for her antiques and collectibles treasures.
Bigos wasn't quite sure how well antiques would be received in the Carefree/Cave Creek vicinity, but years before, the Antique Emporium in Cave Creek had a loyal clientele. She was counting on the vacuum left from its closing to generate a resurgence of interest in vintage treasures. After opening Oct. 1, 2020, Bilinda's Vintage Treasures Antiques & Collectibles soon became a destination for vintage, antiques and collectibles to compliment Los Portales Mall's original antiques shop, Arizona Territorial Antiques.
When entering the cozy shop, shoppers will be amazed by the variety and selection of furniture, lighting, mirrors and artwork, all showcased beautifully by the vintage Swarovski chandelier as well as the crystal ceiling and pendant lights. The shelves are filled with unusual décor and accent pieces as well as Western collectibles, so well-suited for the Carefree/Cave Creek area. Vintage jewelry featuring collectible watches, sterling and .925 rings, cuffs, necklaces and earrings as well as collectible pocketknives are on display. Beautiful vintage linens including tablecloths, pillowcases and hand-crocheted bed coverlets are an excellent addition to any home to complement unique design style. Shoppers will find an interesting selection of books, vintage tools, small sculptures and collectible cars and toys as well as china, glassware, barware, sterling and silverplate. They will also find special one-of-a-kind "must have" treasures.
Bigos shared, "Customers and visitors frequently comment, 'This shop makes me happy.' What a great compliment!" And added, "Come Soon! There's always an adventure!"
Bilinda's Vintage Treasures will celebrate its one-year anniversary Thursday through Sunday, Oct. 14–17, with special customer discounts and refreshments.
The shop is open Wednesday through Saturday from 10:30am–5pm, and Sunday from noon to 4pm. The shop is located at 99 Easy Street, Suite 201, in the Los Portales Mall in Carefree.
For additional information, call 602.732.8866 or visit www.bilindasvintagetreasures.com.