Carefree. Where the Sun Marks Time
In 1946, Thomas D. Darlington (Tom) and Kenyon Turner Palmer (K.T.) met at a Kiwanis luncheon in the Adams Hotel in Phoenix, where the seminal idea of Carefree was born. Years later, both men found themselves working in a Scottsdale real estate office and their previously monumental dream was rekindled. Despite their differences, they both lived by the ideals of thrift, industry, honesty and loyalty. They carried out many expensive joint ventures on a simple handshake. In 1955, a 400-acre goat farm north of Scottsdale was found with an abundant well, and 2,200 surrounding acres were secured. They purchase the land that would become the Town of Carefree for $44,000.
K.T. named their joint business venture the Carefree Development Corp., and the name "Carefree" was regularly used to describe their vision of the Town they proposed. In 1958, the Darlington-Palmer building was finished in the downtown area (that building is now Town Hall) and in 1959, the iconic Sundial was completed.
Cut to 1984, when, concerned about encroachment by the City of Scottsdale, Carefree incorporates as a Town and Merritt Bigelow became the Town's first mayor. Then fast forward nearly four decades to 2021, where that early vision of "Carefree" living has come to fruition. [Carefree history courtesy of Visitcarefree.com]
The Town summed up the Carefree experience this way: "Enjoy the grandeur of the Sonoran Desert, visit the third largest Sundial in the Western Hemisphere and stroll through our vibrant downtown Desert Gardens. Attend our seasonal cultural festivals and art shows; discover unique shops, exceptional galleries and gourmet restaurants; and bring the kids to the Kiwanis Splash Pad for fun in the sun. There's so much to see and do in Carefree, Arizona!"
With so much to offer, it is easy to see why so many have fallen in love with Carefree. Check out these "20 Things to Love," and maybe you'll fall for this small town, too, and make some "Carefree" memories of your own.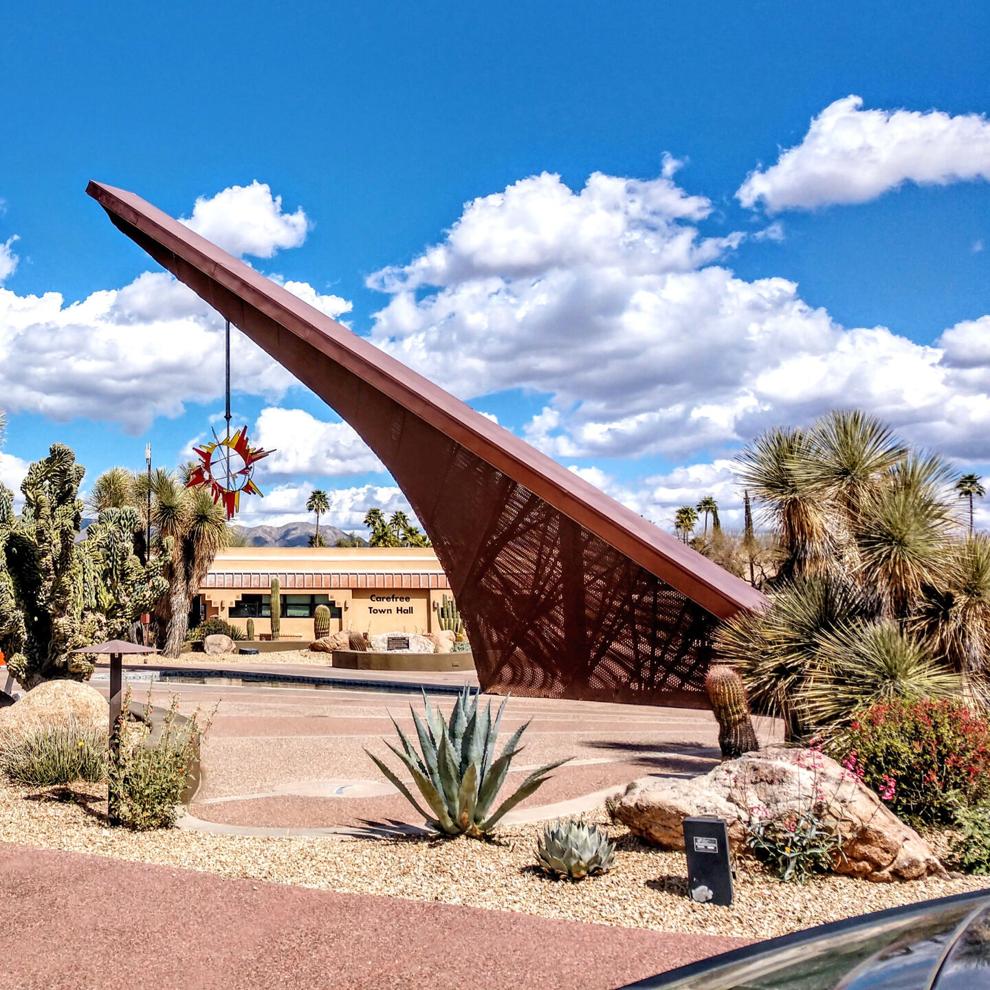 #1. Carefree's Landmark Sundial: Where the Sun Marks Time
The Carefree Sundial was completed in September 1959. Commissioned by K.T. Palmer and designed by solar engineer Dr. John Yellott and architect Joe Wong, the metal gnomon (shadow-casting arm) points directly to the North Star, measures 62 ft. long and rises 35 ft. off the ground. The Carefree Sundial is the largest in North America, and the third largest in the world.
In March of this year, through a community collaboration, the Sunburst that had been missing from the Sundial for nearly 20 years was reincarnated and once again celebrates the desert sunshine and casts its glow beneath the Sundial in the Carefree Desert Gardens.
#2 Carefree Desert Gardens
101 Easy Street, Downtown Carefree
In October 2001, a dirt lot in the center of Town was transformed into the Carefree Desert Gardens. The crown jewel of Carefree and an amazing oasis in the desert, the Carefree Desert Gardens is one of only two public botanical gardens in the Valley, located along pedestrian-friendly Easy Street in downtown Carefree, the Gardens are free to access and are open 365 days a year.
Situated on four acres, visitors can stroll and enjoy rare and fascinating desert plant specimens on a self-guided walking tour, allowing for a visual and emotional connection with nature, or enjoy community events in the amphitheater.
#3. The Sanderson Lincoln Pavilion
The amphitheater, the Sanderson Lincoln Pavilion, is a community gathering place and plays host to a variety of events, such as yoga and other fitness activities hosted by Happy Fitness with Patricia and Christine Nun, in addition to live music and theater performances throughout the year. Upcoming music performances include: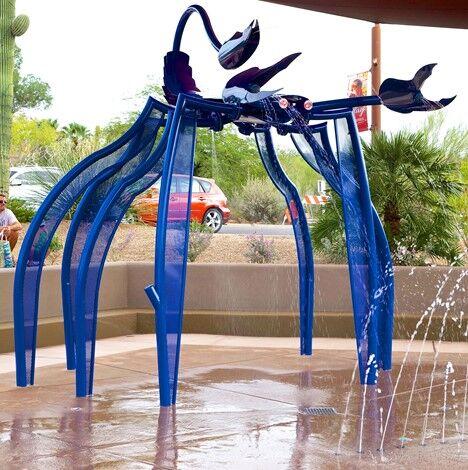 #4. Kiwanis Splash Park
In keeping with the Carefree Desert Gardens theme, in October 2015, the Kiwanis Splash Park was completed in the Gardens with a giant Scorpion centered within the splash pad. Named "Kiwani,"the unique water feature comes to life when guests least expect it, creating an all-new level of interactivity and team play experience, that, combined with the other ground spray jets, create a magical, nature-inspired play environment. The donation of the Splash Park is just one of the many community initiatives of the Kiwanis Club of Carefree.
#5. Kiwanis Club of Carefree: Making "Children Number One"
Chartered in 1973, the Kiwanis Club of Carefree is one of the largest Kiwanis clubs in the world, with roughly 150 members. Its focus is on helping children recognize and develop their potential. The organization supports post-secondary scholarships, summer art programs, special needs support, youth service organizations and more.
Save the date for the Kiwanis Club's annual pancake breakfast event, scheduled for Nov. 13, 7–11am in the Carefree Desert Gardens. Learn more: www.kiwaniscarefree.org.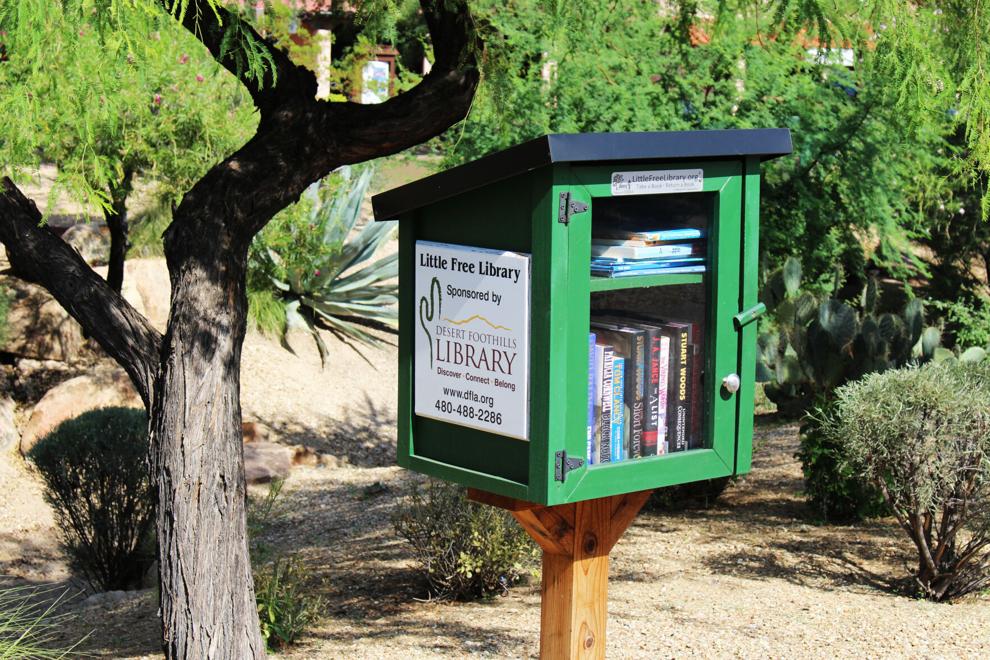 #6. Little Free Library in the Desert Gardens
The Desert Foothills Library Association and the Town of Carefree joined forces in 2017 to install a neighborhood book exchange, called a "Little Free Library," within the Carefree Desert Gardens. The project was underwritten by longtime Carefree residents Linda and Mark Putney, on behalf of the Desert Foothills Library and is a neighborhood book exchange that promotes literacy and the love of reading.
Established in 1954, Desert Foothills Library strives to fulfill its mission "to enrich the Desert Foothills Community by promoting literacy and advancing knowledge through library resources and programs that inspire and support lifelong learning." The library serves as a community resource to everyone in the Carefree, Cave Creek, North Phoenix and North Scottsdale area, and goes beyond books and media to offer a wide array of classes, lectures, events and even art exhibits each month.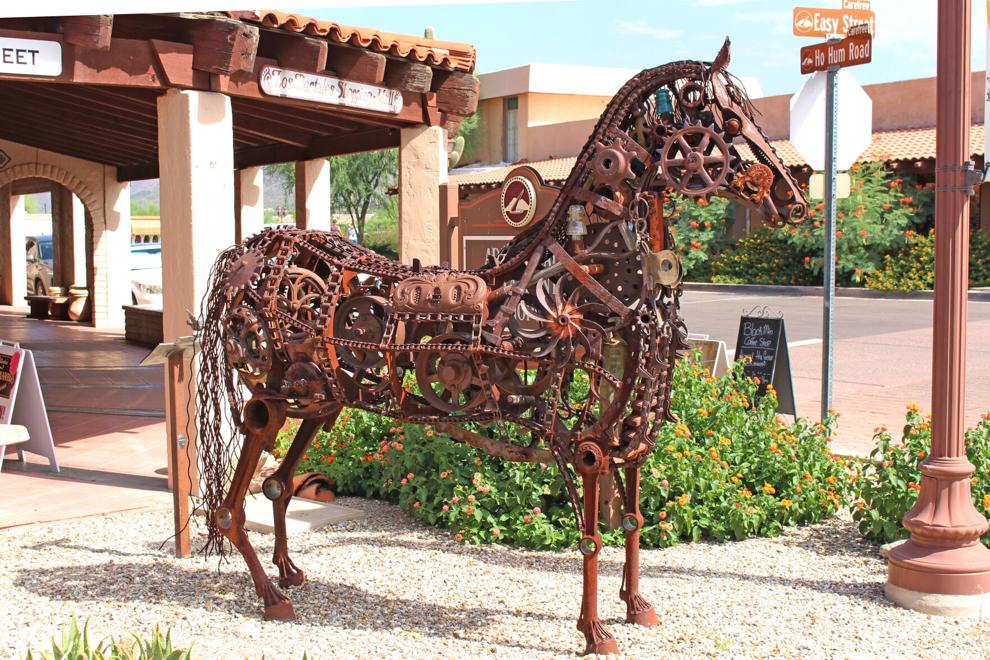 #7. The Art & Artists of Carefree
Downtown Carefree is home to a diverse group of artists and art galleries. Join Carefree galleries on the First Thursday of every month, October through May, for a seasonal Art Walk event. Carefree's First Thursday event series invites visitors to stroll, shop, dine and enjoy an evening celebrating the arts in downtown Carefree. These events help support local businesses and local creativity.
The art walk is free and self-guided, every month, 4–8pm. Begin at any gallery, then continue on to other participating galleries. Enjoy a diverse display of artistic styles and mediums, meet the artists, enjoy refreshments and engage in conversation about art and architecture.
Art Walk participating galleries include Adelante Gallery, Ciolim Gallery, Gallery Michéle, Grace Renee Gallery, M & E Stoyanov Fine Art, Native American Gallery, R. C. Gorman Navajo Gallery, Steve Stento Fine Art, Sue Bickerdyke Interiors & Home Furnishings, Thunderbird Artists Gallery and Wild Holly Gallery. Learn more at www.visitcarefree.com/arts-and-culture.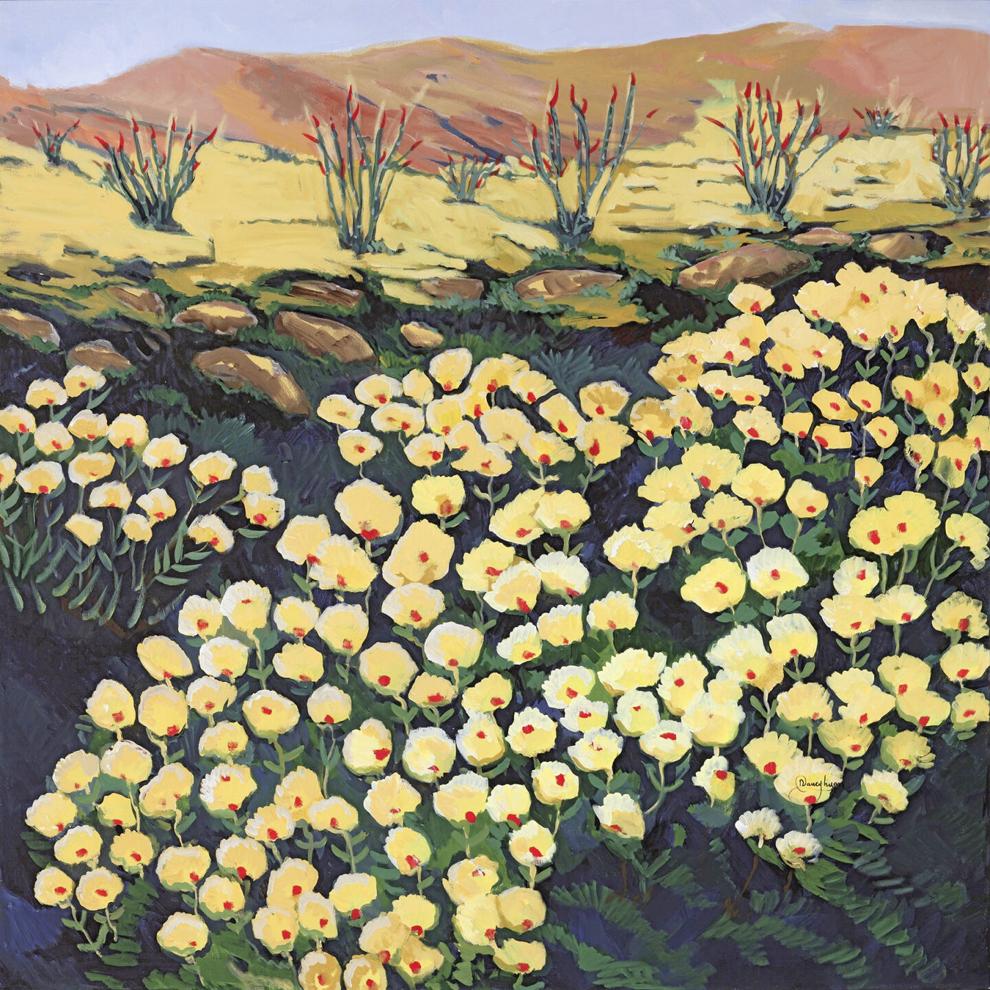 #8 Thunderbird Artists: Bringing Local & National Artists Together
In January 1993, Thunderbird Artists held its first Fine Art and Wine Festival in downtown Carefree. A leading producer of award-winning fine art and wine festivals in the Southwest, the organization's mission is to promote fine arts and fine crafts, while supporting the artists, local merchants and surrounding communities.
Save the date for the 28th Annual Fall Carefree Fine Art & Wine Festival, scheduled for Nov. 5–7 in Downtown Carefree at 101 Easy Street. In the meantime, stop by the Thunderbird Artists Gallery at 99 Easy Street. Call 480.688.4960 or visit www.thunderbirdartistsgallery.com.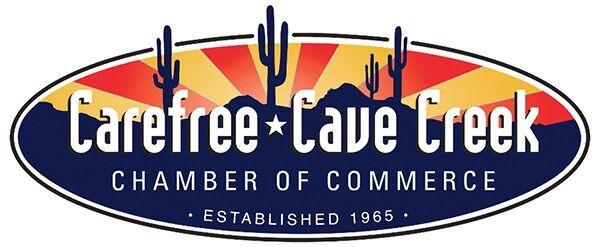 #9. Carefree Cave Creek Chamber of Commerce: Connecting Business & Community
Incorporated in March 1965 by founding fathers Lester Maitland, Leslie Rhuart and Billy Burk, the Chamber from the beginning set out to "promote and foster the civic and economic welfare of its members and of the two separate and independent communities which will be compatible with and complementary to each other."
Today, the board of directors continues its mission and vision to foster the success of the local business community as it leads the way into the future.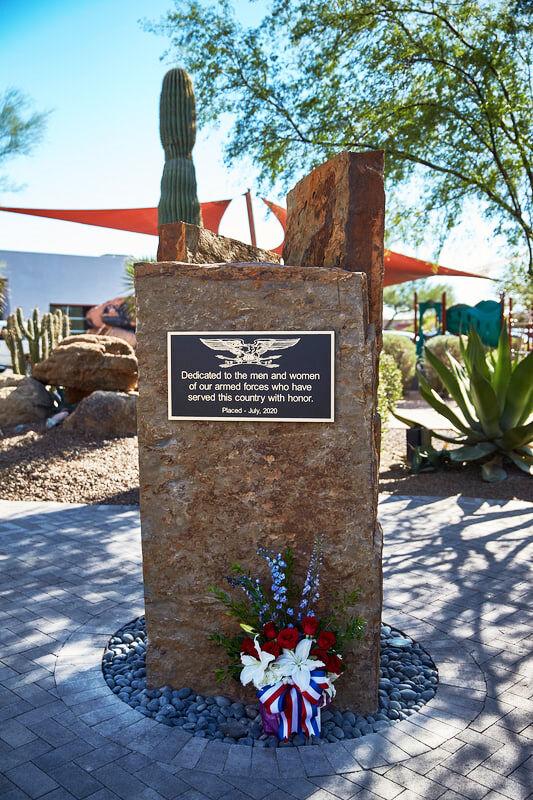 #10. This Annual Charity Run Supports Local Veterans
For the third year in a row, residents are invited to walk/run around the picturesque town of Carefree during the Veterans Day Charity Three-Miler, hosted by AT&T Veterans. Scheduled for Nov. 13 this year, all ages and abilities can participate, making this a full family event (leashed dogs welcome), all in support of local veterans and their families. The 2021 race begins at 9am at 8 E. Sundial Circle in Downtown Carefree. Additional race information can be found at www.attveterans.org/race.
#11. The Carefree Veterans Memorial Honors Those Who Served
In 2020, the culmination of a year-long, grass roots and 100 percent donation funded project came to fruition in the form of a Veterans Memorial in the heart of the Carefree Desert Gardens. Managed and designed by local veterans representing each service branch, the team worked to create a memorial where veterans are honored every day; where veterans have a quiet spot, surrounded by nature, to contemplate their service to the country or recount to loved ones their experiences; and where guests can sit and contemplate what veterans have sacrificed and done for them.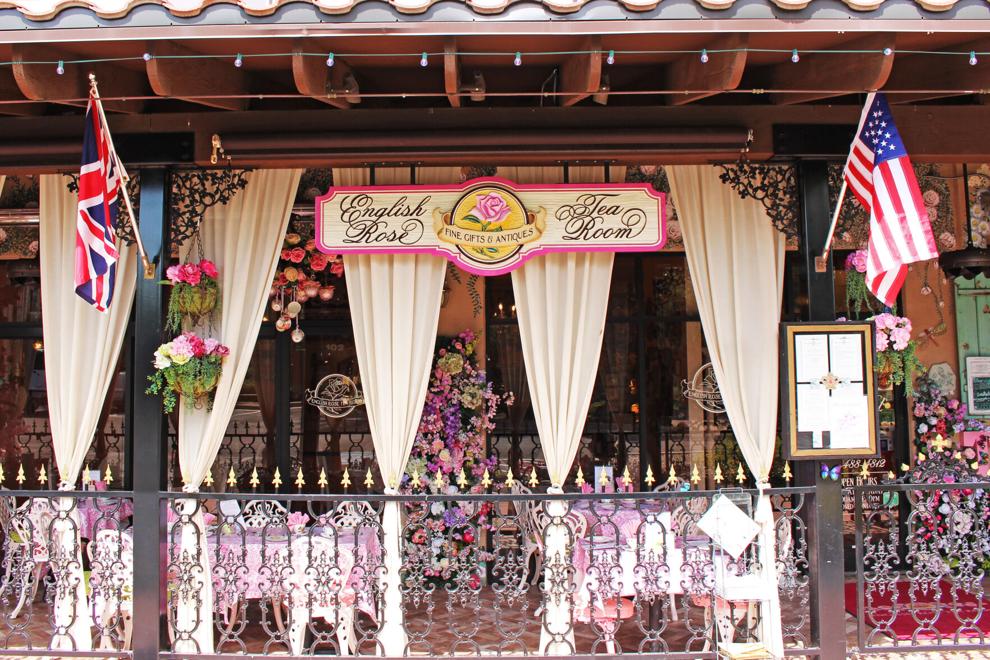 #12. Dining Out in Carefree is Deliciously Diverse
Carefree is blessed with a diversity of dining options — from casual eateries to upscale fine dining, there is something for just about every palate and pocketbook. And there is no better time to discover the flavors of the area than during Carefree Fall Restaurant Week, hosted by the Carefree Restaurant Association, Oct. 1–10.
Restaurants participating in the 2021 Fall Restaurant Week include Alberto's Ristorante, Black Mountain Café, Confluence, Corrado's Cucina Italiana, English Rose Tea Room, Giordano's Trattoria Romana, Keeler's Neighborhood Steakhouse, Raven's View Wine Bar and Venues Café.
#13. Carefree Farmers Market: Keeping it "Local-ish"
1 Sundial Circle
Learn more here 
Held Fridays from 9am to 1pm October to May (8–11am, June through September), the Carefree Farmers Market regularly features fresh, local, seasonal produce, herbs, flowers, fresh baked goods, and natural meats and seafood, in addition to a selection of local arts and crafts. The market accepts Arizona Farmers' Market Nutrition Program coupons.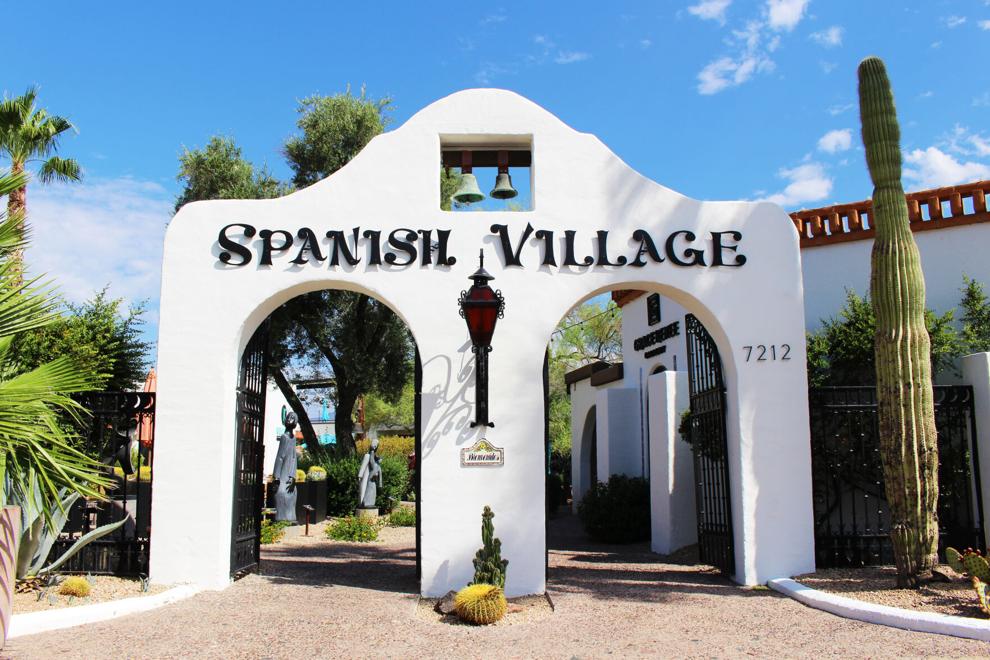 #14. Historic Spanish Village
Established in 1968, Spanish Village is a picturesque center in Downtown that was built by K.T. Palmer and Rex Howard. While the building was under construction, Dr. Levy, a physician from Milwaukee, WI, asked if he could purchase the future enterprise. Not wanting to sell, the entrepreneurs came up with an outrageous sales price — well above market value. Dr. Levy accepted the bloated sales price without a counter-offer. [Source: visitcarefree.com]
Today, the center remains a cultural and art hub, and is home to more than a dozen retail boutiques, galleries, salons, spas, service providers and dining options.
#15. Boutique Shopping is a Mainstay
Throughout Carefree, residents and visitors alike can enjoy a variety of shopping delights. Check out Arizona Territorial Antiques & Rustic Décor, Bags & Rags, Bilinda's Vintage Treasures, Desert Treasures, The Desert Donkey and many more. Find more shopping options at www.visitcarefree.com/shopping.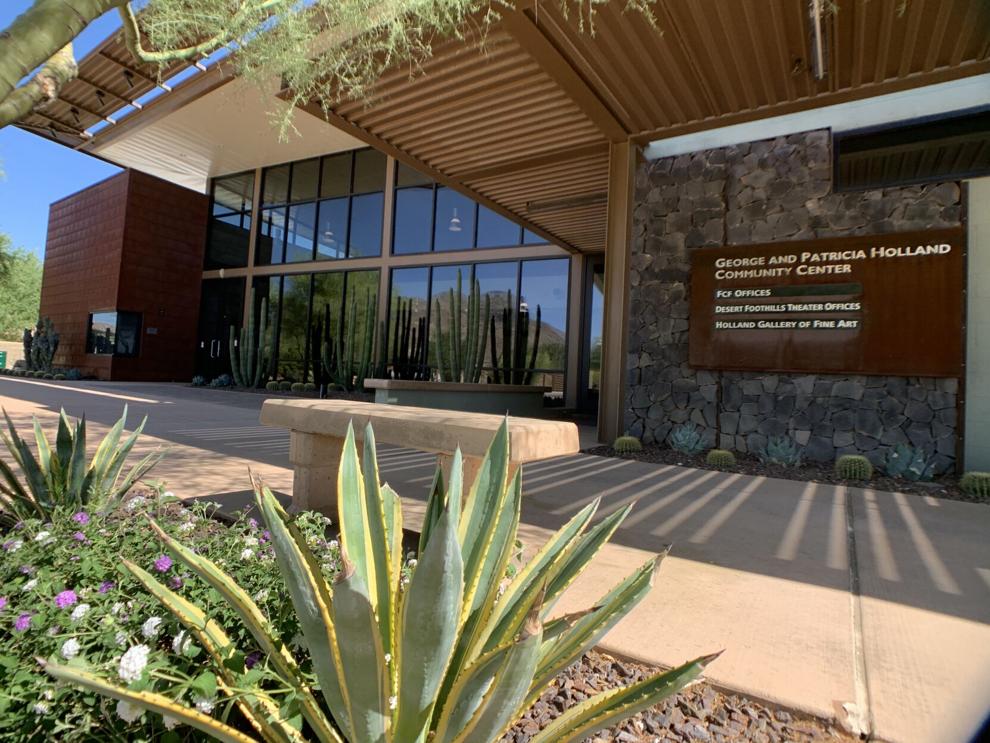 #16. The Holland Center: Enriching the Community
Serving the communities of Carefree, Cave Creek and North Scottsdale, the Holland Center, originally established as the Foothills Community Foundation in 1986, provides support, opportunity and connection for area residents through a diverse array of programs, ranging from intriguing classes to fine arts exhibits to community theater (Desert Foothills Theater) and beyond.
#17: Desert Foothills YMCA
480.596.9622; www.valleyymca.org/desert-foothills
The Desert Foothills Family YMCA opened its doors in October 2009 to serve the communities of Carefree, Cave Creek, North Phoenix and North Scottsdale. This Y enjoys the beautiful backdrop of the Sonoran Desert and is a part of the Black Mountain Campus — a partnership with Paradise Valley Community College and The Holland Center.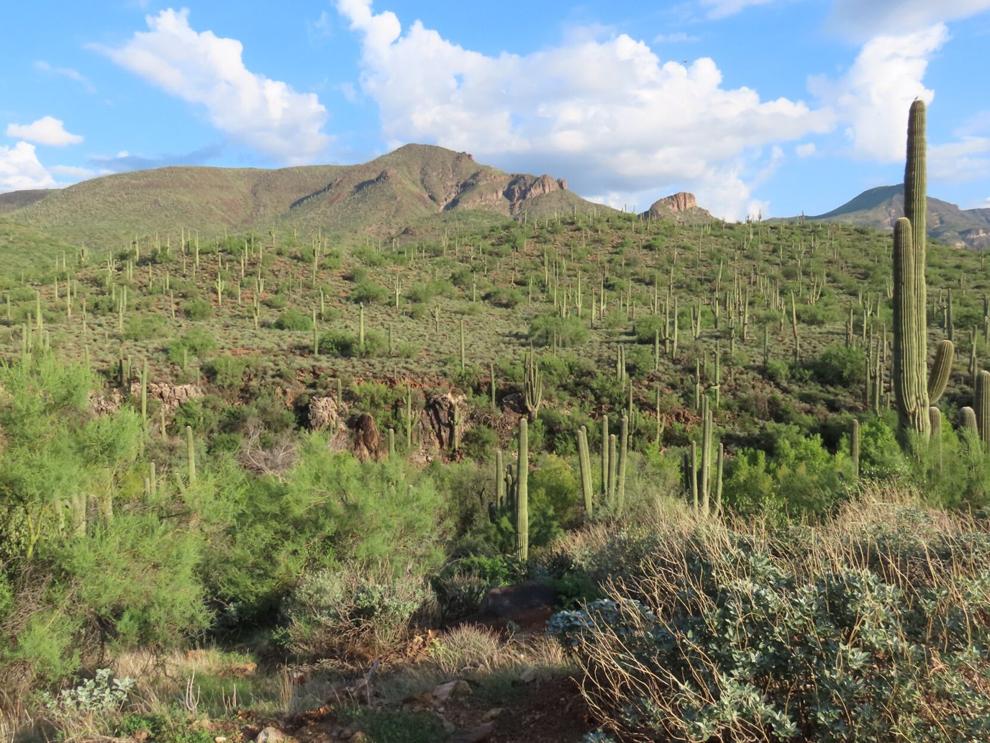 #18. Convenient Access to Outdoor Adventure & Exploration
Spanning 2,922 acres of upper Sonoran Desert, Cave Creek Regional Park offers over 11 miles of trails, developed campsites and a Nature Center. The Spur Cross Ranch Conservation Area encompasses 2,154 acres of diverse, rugged upper Sonoran Desert with archaeology sites, and remnants of early mining and ranching, in addition to rich wildlife habitat.
Just 20 miles east and part of the Tonto National Forest, a variety of recreational activities can be found at Bartlett Lake. Boat rentals and more are available at Bartlett Lake Marina.
#19. Foothills Caring Corps
480.488.1105; www.foothillscaringcorps.com
The mission of this 501(c)(3) nonprofit is "promoting independence and enhancing the quality of life for our "Neighbors", older adults and persons with disabling conditions who reside throughout the Foothills community." Save the date for the Caring Corps' 10th Annual Golf Classic, Dec. 13 at Mirabel Golf Club. The presenting sponsor is Kendrick Wealth Management. Learn more about the event at www.foothillscaringcorps.com/golf-2021.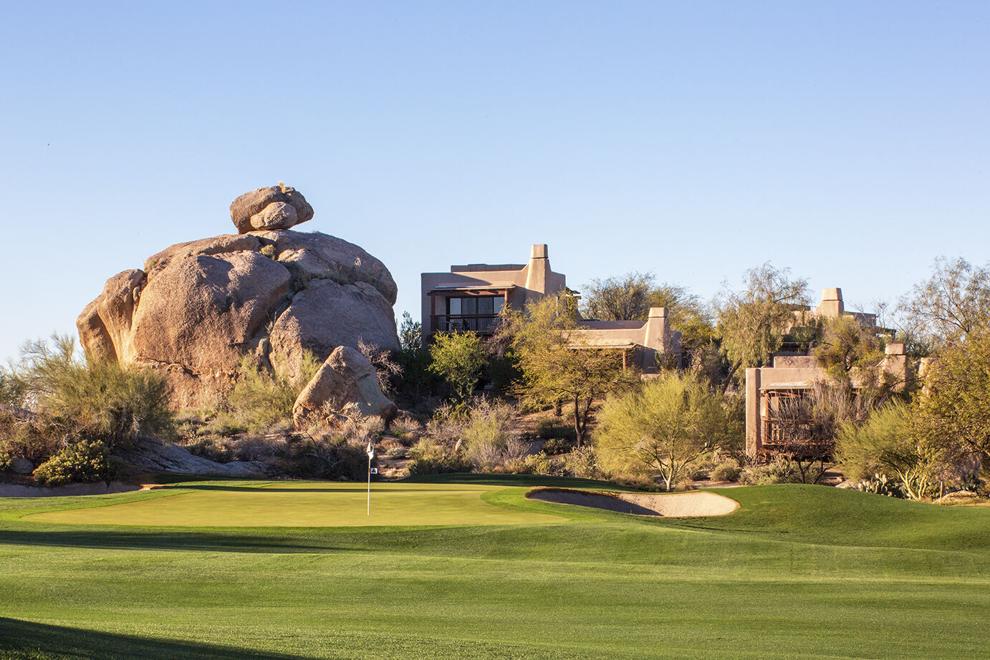 #20: World-Class Resorts, Retreats & Golf Clubs
Those looking to escape the worries of the world need look no further than Carefree. Find challenge on award-winning golf courses, restoration in the 33,000 sq. ft. spa, flavors of the Southwest at one of five restaurants or stay in a luxuriously appointed room at The Boulders (480.488.9009; www.theboulders.com).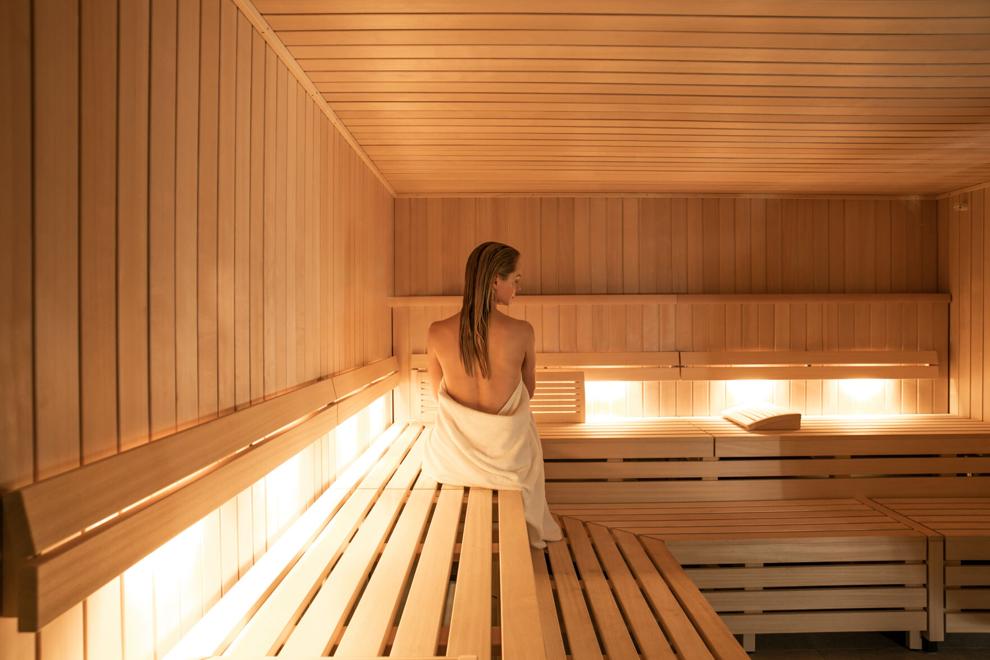 CIVANA is a destination wellness resort that offers a regenerating experience to a wide audience of wellness travelers, as well as those simply looking for a serene and healthy get-away. The resort does this through its four pillars: Movement, Spa, Nourishment, and Discovery (480.653.9000; www.civanacarefree.com).
Guests are invited to "Connect, Refresh and Renew" at Spirit in the Desert Retreat, a unique retreat where, "people of all backgrounds, religious or non-religious, can experience renewal, reconciliation, healing, and transformation" (480.488.5218; www.spiritinthedesert.org).
Considered to be the first desert course ever built, Desert Forest Golf Club was carved from existing desert landscape in 1962 by architect Robert "Red" Lawrence. The environmentally "all natural" setting remains today the hallmark of the course (480.488.4589; www.desertforestgolfclub.com).
---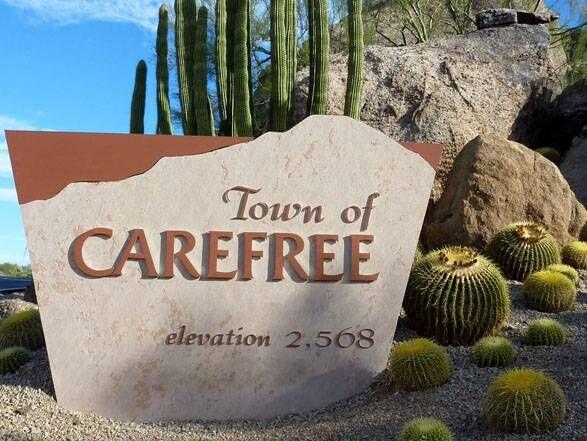 To learn more about the Town of Carefree, call 480.488.3686 or visit www.carefree.org. Stop by Carefree Town Hall, located at 8 Sundial Circle, Monday through Friday, 8am–4:30pm. Residents can find information on upcoming council meetings, sign up to receive updates from the Town and more on the Town website. To learn more about activities taking place in and around town, go to www.visitcarefree.com.
---
All event information is current at the time of publication. Check with event organizers before heading out.