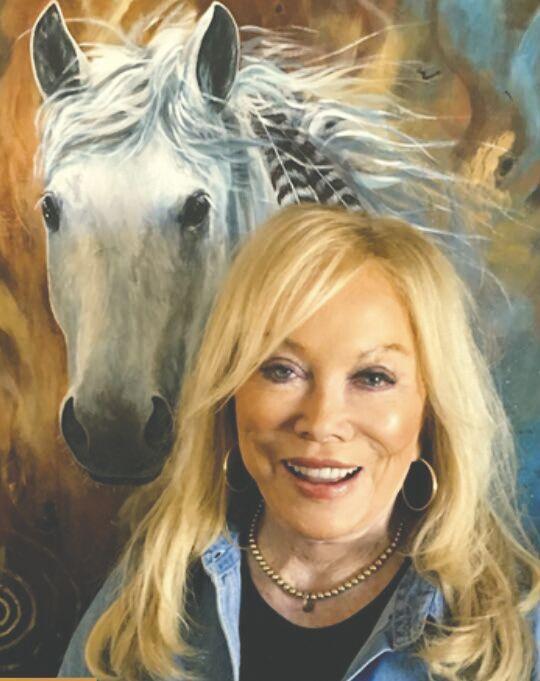 Quietly living her life of purpose, planted firmly in both the physical and spiritual worlds in Cave Creek, Lynn Andrews is the New York Times and internationally best-selling author of the Medicine Woman Series and a total of 21 books and workbooks. The Medicine Woman Series chronicles her three decades of study and work with shaman healers on four continents. Her study of the way of the sacred feminine began with Native American healers in northern Canada. Her quest for spiritual discovery continued with a Shaman of the Mayan Yucatan, an Aboriginal woman of high degree in the Australian Outback and a Nepalese healer in the foothills of the Himalayas. 
Today, she is recognized worldwide as a leader in the fields of spiritual healing and personal empowerment. A shaman healer and mystic, Andrews is widely acknowledged as a major link between the ancient world of shamanism and modern societies' thirst for profound personal healing and a deeper understanding of the pathway to enlightenment. Following decades of study, Andrews is now uniquely gifted in the multiple facets of shamanism—including not only healing, but also how to take others into her joyful world of energy and living a life of purpose with passion. 
A member of the Sisterhood of the Shields—44 women who are healers from cultures as diverse as Panama, Guatemala, Australia, Nepal, North America, and the Yucatan— Andrews is their public messenger. Passed from generation to generation, their teachings, born of the sacred feminine, have been practiced, guarded, and handed down from shaman to apprentice, mother to daughter, for over 5,000 years. Along with her Medicine Woman Series, Andrews's 21 best-selling books and workbooks, published in 17 languages, offer vital insight into her work with these women and their unique and deeply profound teachings. 
Andrews brings spiritual tools and compelling techniques for healing from the spiritual realm to the modern everyday physical world. Her techniques use the power of thought to take you beyond self-limitation to other realities. Through live shamanic gatherings and many other media outlets, she uses a wide variety of experiential tools to lead her audiences deeper into themselves. Transformation of spirit is the driving force behind all her teachings—allowing us to live with sacred intent and the conscious awareness of a higher purpose in all that we do. 
She presents these shamanic teachings in her four-year program in her Mystery School, a two-year program called Writing Spirit, The School, and provides online courses for conscious dreaming and manifesting your personal acts of power. The Mystery School provides all the tools to develop a fully authentic self, including full awareness of culture and country. Her ordained graduates include thousands of diplomats for the earth all over the world. 
Before COVID-19, Andrews hosted annual live gatherings for shamanic healing and empowerment in Paradise Valley and Hawaii, and has led shamanic tours to Egypt, Peru, Alaska, Ireland, and other sacred sites around the globe. Her followers are excited to learn these events are starting again, beginning with the 33rd Annual Summer Gathering Event in Laguna, California in July. 
Andrews has spent the time in quarantine with her beloved horses, dogs, and goats, finishing her newest book, being released in January, Acts of Power: Daily Teaching for Inspired Living. A companion to the 21 books previously written, this is a distillation of the truths learned from many women of power all over the world. Andrews intends to help those of us who don't know how to look for wisdom. She gently guides the reader to look in the mirror and see if they are who they should be and doing what they want to be doing. These teachings, which helped Andrews align herself in ways unknown before, will help us reevaluate our point of view every day and align ourselves with our own personal power source (God—Spirit—Being of Light) with definitive results. 
To learn more about the teachings of Lynn Andrews, her books, and programs, visit www.LynnAndrews.com. You'll be glad you did.