Volunteers and community partners help make it possible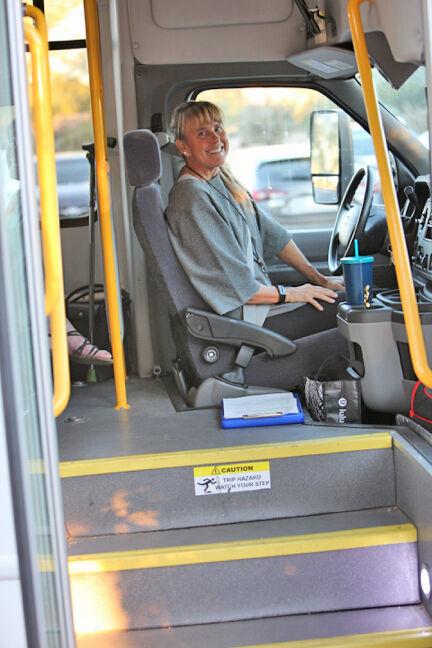 Imagine being able to live independently in one's own home well into the golden years. It's a dream for many, but the reality is that as people grow older, their needs become greater as resources begin to diminish. Activities like going to a doctor's appointment or shopping for groceries become challenging when one no longer drives. Social life may suffer too, especially for those who are a widow or widower or a transplant from another state who may not have family nearby.
Fortunately, more than 2,500 people in the Phoenix area have been able to stay in their homes and live more fulfilling lives because of the nonprofit Foothills Caring Corps (FCC).
Since 1999, Carefree's FCC has helped older adults and those with disabilities live independently while still being a part of the community. Those that the organization helps are referred to as "Neighbors." These Neighbors live in the organization's service area, which includes Carefree, Cave Creek, North Phoenix and North Scottsdale.
Executive director Debbra Determan says isolation and loneliness is something many seniors and others living on their own deal with all too often, and that the organization's goal is, "to help Neighbors build their resources, so they are surrounded by support."
Studies have shown that isolation can be detrimental to mental and physical health, often resulting in people being forced to leave their homes and move into care facilities. Eighty-five percent of FCC Neighbors live alone, but Determan says that even Neighbors who live with their children need social interaction or transportation — many seniors are home alone all day because their adult children are at work.
FCC's services include medical transportation, van trips to social events, mobile meals, mobility equipment loans, pet therapy, friendly visiting and phoning, business/computer help, handyman services, caregiver relief, shopping assistance, a lock-box program and more.
History of Foothills Caring Corps
Gail Simmons and Father Steven Dart formed the start-up programs in 1999.  One year later, they received a start-up grant from the Robert Wood Johnson Foundation and to hire a small part-time staff.  They were then able to recruit more volunteers and were granted space in Christ Anglican Church. By 2003, the Caring Corps passed the 200-volunteer mark, and in 2004, the organization purchased its first 13-passenger van.
In 2006, Simmons retired and Determan took over as executive director. The year 2007 saw FCC reach a critical milestone. That year, the Caring Corps met the needs of 350 Neighbors with more than 33,000 volunteer hours. In 2009, the Foothills Caring Corps was officially registered as a 501(c)(3), and it established a Board of Directors.
The nonprofit organization moved to its current location in 2010, and later expanded and remodeled the space to accommodate expansive growth. In 2014, the organization served 740 Neighbors with 575 volunteers. One year later, they reached another milestone by raising $600,000, the most ever raised at that point.
Since its start-up beginnings in 1999, the organization has had steady growth in both the number of Neighbors served and the volunteers that have been recruited. Fast forward to 2019 when, as of October, FCC had provided 35,782 hours of service, which included more than 10,400 meals, 5,955 van trips and 4,438 medical-transportation trips.
Getting Started
All of these life-changing services begin with a phone call and an at-home visit by FCC assistant director — Volunteer and Neighbor manager, Nancy Cohrs. Cohrs meets with FCC applicants to make sure the organization is a good fit for them. With 230 plus new participants a year, Cohrs spends a good portion of her workday screening potential Neighbors. She says the organization helps people at a critical time in their lives, adding that the FCC motto — Hugs and Help Happen Here — really holds true.
"I do believe that our service and our volunteers make a huge impact on the community, allowing Neighbors to remain living independently," she says.
Won't You Be My Neighbor?
Neighbors who want company can sign up for FCC's friendly in-person visits or phone calls. They can also take a look at the monthly calendar that lists upcoming van trips. Neighbors are encouraged to sign up for activities that interest them, such as movies, bingo, the library, chair yoga, special events and more.
A van will accommodate five or six neighbors, the driver and the driver's assistant. Neighbors receive help getting on and off the vans, five of which are equipped with ramps or lifts. The Caring Corps currently has nine vehicles.
Scottsdale resident Caroline Turner is one of several volunteers who drive Neighbors to doctor's appointments or social events. The Caring Corps provides as many as 85 rides in one week.
"It's so rewarding," says Turner, who volunteers anywhere from 60 to 80 hours per month. "The neighbors are so inspiring. If a 90-year-old woman with an oxygen tank can get out and go to chair yoga…that's amazing. I hope I can do that when I'm that age."
While the average age of an FCC Neighbor is 82, not all of them are elderly. Scottsdale resident Nathan Holter, who is epileptic and legally blind, is a few decades younger than most of the Neighbors, but he doesn't mind. He says the Neighbors he has met over the years have unofficially adopted him as their son or grandson.
When Holter and his parents moved to Arizona from Minnesota 10 years ago, he found he didn't have much opportunity for social interaction with people outside his family. He went online looking for transportation and stumbled upon the van program.
"When I called about the van service, they said, 'You know this van is primarily for the elderly, don't you?' And I said, so?"
Holter takes six to eight van trips per month — fewer in the summer months when many volunteers are away. "I have a whole lot more freedom with the van program, and I enjoy my life a lot more," Holter says. "I've become more confident in myself. I really look forward to these trips."
Neighbor Doris Rybarczyk moved to Arizona from Maryland in 2003 and has been participating in the van program for 15 years. Rybarczyk's son lives nearby but works full time and is busy raising a daughter.
"I love it," she says. "It has given me such a wonderful outlook on life. It gives you a chance to talk with different people and keep your mind active."
Rybarczyk says once she experienced the FCC van program for the first time, she made sure to tell everyone in her apartment complex about it.
Many Neighbors become good friends on van trips and even exchange phone numbers so they can discuss future trips or just chat.
"When you're lonely and isolated, that has an impact on your health. You can get depressed and have anxiety. Our goal is to enhance their lives and add social interaction and fun with safety in mind," Cohrs says.
Regina Bonahoom, a Neighbor and Cave Creek resident, says the Caring Corps has made a huge impact on her life. After becoming a widow, she became less involved in the community and reached out to the nonprofit to help fill that void.
"It was a new chapter in my life, and, without the Foothills Caring Corps, I wouldn't have known who to turn to," she says. "I've made many new friends. We need to be with friends. That's what gets us through."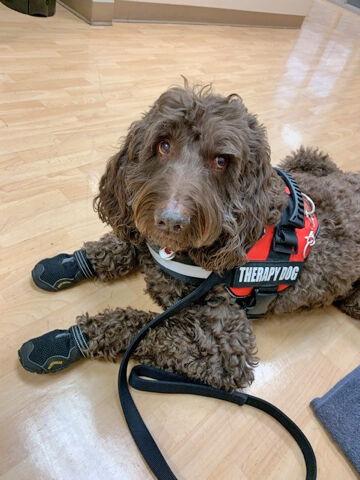 Neighbors who appreciate "furry" friends, can also take part in the pet therapy program. Turner is one of the volunteers who brings her certified therapy dog to visit Neighbors.  Neighbors love visiting with her dog, Krosby.
Volunteer Power
While the Foothills Caring Corps has almost a dozen paid staff, the organization's volunteers are critical to its success, with more than 1,600 registered volunteers, 475 of which are regularly active.
Cohrs facilitates most of the volunteer orientations and says people have many volunteer options, depending on their interests and the amount of time they can commit.
"Our volunteers are always telling us that they get so much out of the experience," Cohrs says. "And the Neighbors could not be more grateful."
Marian and Phil Abramowitz have been volunteering for 15 years. They work together delivering food for the mobile meals program. The organization delivers 60-70 meals per day, Monday through Friday. The food is prepared at Honor Health, Thompson Peak.
"The Neighbors love the food, and they are so grateful to us," Marian says. "Every house we go to, they thank us over and over again."
Cohrs says mobile meals is a critical FCC program. Not only do neighbors get a hot meal, but they also get a safety check. Neighbors in the program are required to answer the door and let the volunteer in the house. If no one comes to the door, FCC will call until the person answers. If they are unable to reach a Neighbor within a short period of time, FCC will call either the sheriff's department or fire department to do a welfare check.
Volunteer Chuck Zontanos has been with FCC since 2005. He started as a driver and now serves as a driver's assistant.
"Everybody we pick up has a story," Zontanos says. "They have a lifetime of experience and some of the stories are remarkable."
The first Neighbor Zontanos ever drove to the doctor was a French woman with a background straight out of a novel. During the ride, she shared that she had worked for the French underground during World War II and helped smuggle Jews over the border into France. She was eventually turned in to authorities by her neighbors, and she spent two years in a German prisoner of war camp. Another woman Zontanos met flew U.S. military planes fresh off the assembly line to make sure they were ready for battle overseas during World War II.
"Everybody has a story," Zontanos says. "It's a great pleasure hearing where everybody is from and getting to know them."
Many of FCC's volunteers says that while they are the ones donating their time, they feel like they get more out of the experience than they put in.
"Every day I volunteer, I give back to someone," Turner says. "I can't imagine what I would do without the Caring Corps in my life."
To recognize the impact that they have made, all past and present volunteers are invited to celebrate 20 years of the Foothills Caring Corps at a reunion / volunteer appreciation celebration, which will take place in early 2020. The event will include an awards presentation and recognition of volunteers and the debut a video that documents the organization's history. Food and beverages will be provided.
It Takes a Village
While FCC wants as many people as possible to know about the program, more Neighbors means an increased demand for volunteers and funding. The organization occasionally receives grants for various programs, but the majority of its funds come from private donations.
Also vital to the organization is the support of its community partners and residents. In late November, they partnered with the Town of Carefree and Kiwanis Club of Carefree to launch the "Season for Caring" initiative benefiting the many deserving seniors in the area. Residents are invited to help FCC "bring joy, friendship and a holiday gift to our Neighbors," says Determan. [Read Season for Caring on page 23.]
The nonprofit 501(c)(3) organization raised $650,000 in 2018–19 and hopes to meet its goal of $720,000 in 2019–20. Community members who would like to help support FCC in its mission can learn more at www.foothillscaringcorps.com.