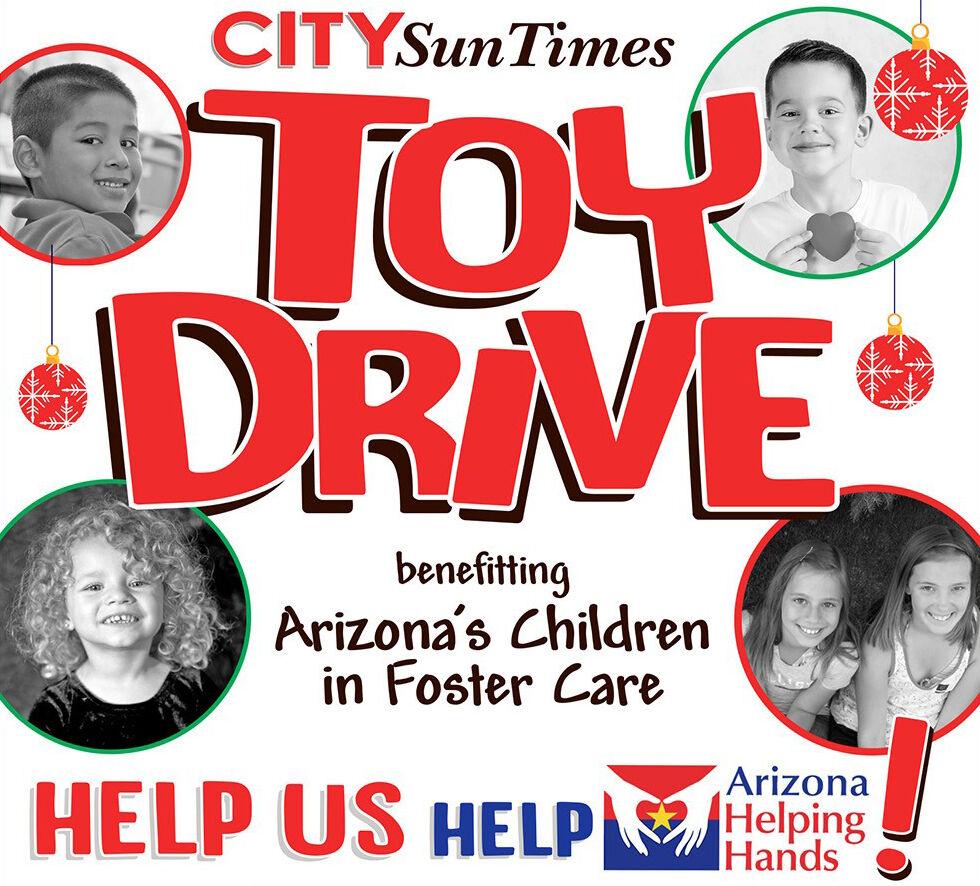 This year, CITYSunTimes (CST) is teaming up with Arizona Helping Hands (AHH) as they serve thousands of children in foster care (ages 0–12) during the holiday season. The goal for the 22nd Annual Holiday Toy Drive is for each child to receive two new toys and a book, and the organization is relying on the support and generosity of the community now more than ever. 
Ensuring Every Child in Foster Care is Safe and Loved
There are roughly 14,000 Arizona children in foster care right now. The mission of Arizona Helping Hands is to provide for the essential needs of these children through its programs promoting safety, permanency and health.
Arizona Helping Hands is the largest provider of essential needs for children in foster care in the state. They meet those needs in five core areas:
Basic Needs: Provide children with a safe place to sleep and more, including twin beds, cribs, clothing, diapers, wipes, educational activities and personal hygiene kits.
Back to School: Prepare children for success in school with backpacks, supplies and uniforms.
Birthday Dreams: Celebrate children with personalized birthday packages filled with toys, games, books and puzzles to life their self-esteem.
Foster Footlockers: Create peace of mind for children by providing a safe place to store personal keepsakes and belongings.
Licensing Safety Items: Ensure a safe home environment with fire extinguishers, first aid kits and more to meet Arizona's Life Safety Inspection requirements.
The Need is Greater Than Ever
It has been a challenging year for everyone, and area nonprofits have been hit especially hard. Now, more than ever, Arizona Helping Hands is looking to the community for their support. There are three ways that residents can get involved this holiday season:
Donate — A $65 donation provides a holiday package for a child in foster care. Donate now at azhelpinghands.org/holidaytoydrive.
Shop Online — View the AHH Amazon wish list by clicking the link: https://smile.amazon.com.
Local Drop Off — Purchase a toy and drop it off at a CST collection site Nov. 6 through Dec. 4. So far, CST has two drop-off points: Cave Creek Tourism Bureau (6061 E Cave Creek Road, Ste 7) and Kidstop Toys & Books (6990 E Shea Blvd., #103, Scottsdale)
Help Us Make the Holidays Brighter
Visit the CITYSunTimes 2020 Holiday Toy Drive page for additional details, including a suggested list of age-appropriate toys, an updated list of CST drop-off locations and how local businesses can become a drop-off location. Learn more about Arizona Helping Hands by visiting their website. |CST