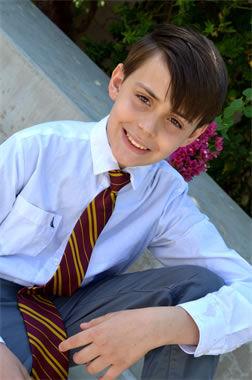 Eleven-year-old Constintine, or CJ as he's called, is like most fifth-grade boys. He's friendly and talkative, loves the outdoors, and wants nothing more than a family to call his own.
CJ loves to explore. Nothing makes him happier than riding his bike and going on new adventures, like riding around and checking on the neighborhood cats. He hopes his forever family has the same appreciation for the great outdoors and will want to go on family bike rides.
Speaking of cats, CJ has a great love for all animals, but cats in particular. He hopes his forever home will have a cat, or maybe a dog, or even a snake or lizard he can care for.
Another of CJ's great passions is video games especially Minecraft. CJ loves to play in survival mode and create new worlds.
CJ's child specific adoption recruiter at Aid to Adoption of Special Kids (AASK) says that CJ needs a family with a mother and father figure that are consistent in nurturing and caring in order for CJ to reciprocate that love. CJ says he would like to be part of a family that has other children so he can have siblings to talk to and play with.