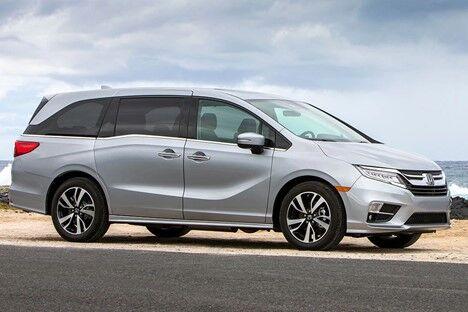 It is amazing how the term "minivan" has changed from one generation to the next.  In 1983 the first minivan flew off the assembly line.  The manufacturer was Chrysler, and they introduced the Chrysler Town and Country, Dodge Caravan and Plymouth Voyager.  The minivan saved Chrysler from extinction in the 1980s.
In 1994 the Honda Odyssey was manufactured and marketed by a Japanese automaker named Honda. It's now in its fifth generation and still ranked the number one minivan in America, starting in 2018. It was developed in the wake of the country's economic crisis of the 1990s. It was first marketed in Europe as the Honda Shuttle. I find it interesting that in both cases the minivan was a life jacket for two major manufacturers facing financial ruin.
When I was raising my children in the 1980s, the minivan was considered a mom automobile (mommobile) reserved for large Catholic or Mormon families looking to utilize one vehicle to get their families to their destination. My kids in the 2000s considered minivans old school and uncool, forcing me to make two trips to the soccer field instead of one in our "cooler" sedan.  Now that my children have large families of their own, and they drive SUVs the size of small airplanes, they are looking at the minivan as the classy, well-equipped, sleek, sexy and powerful transporter. That's right, the Elite Odyssey I tested has a 280hp 3.5-liter VTE V6 engine with VCM. I have also discovered that men are not one bit embarrassed to drive a minivan these days.
This brings us to the Honda minivan video.  My 10-year-old granddaughter Sofia has always loved minivans.  She remembers her family having one when they lived in upstate New York when she was 5-years old.  She recalls the freezing cold when her mon would start the vehicle while standing at the kitchen window.  She would run to the van in the snow with her boots slipping on the ice and just before she got there, the slider would open (remote from kitchen) where she could pop into a nice warm vehicle. It is because of this memory, although she now lives in sunny Arizona, that she asked to review the Odyssey Elite with me.
Sofia took one look at the Odyssey and just went for it on camera. After all, she is Gen Z and we sure do want to make them happy.
Check out Some of the Standard Equipment on the Odyssey
This minivan has so many wonderful extra features such as Cabin Talk, CabinControl Capability, CabinWatch, collision Mitigation BrakingSystem, lane keeping assist system, Rear Privacy Glass, Heated Power Door Mirrors and turn indicators and my favorite HONDA VAC.
Here are the 2021 Model Year Updates
Refreshed exterior design plus new utility and available luxury refinements inside
Standard Rear Seat reminder is integrated with CabinWatch – camera on upper trims
Honda Sensing, now standard on all trims
Redesigned second row MagicSlide outboard seats fold almost flat for easier removal
Other Outstanding Features on The Odyssey Elite
Paddle Shifters
Leather trimmed interior
Premium Audio System with w/11 Speakers
Blu-Ray /DVD Rear Entertainment system with wireless headsets
Apple CarPlay, Sirius XM, HD Radio
Mobile HotSpot Capacity
USB Audio Interface
Magic Slide Second Row of Seats (awesome)
115-Volt Power Outlet
19' Alloy Wheels
Remote Engine Start
Rear Privacy Glass and Shades
Details on This Test Vehicle
19/City 28/Highway
MSRP: $47,820
As Tested:  $49,335
Granddaughter reviewing my test vehicle: Priceless
For more on this vehicle go to honda.com.