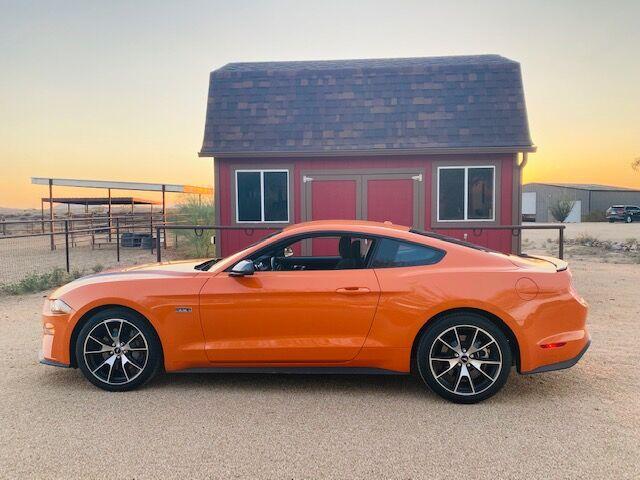 Whenever I have had the opportunity to test drive a Ford Mustang, I find a way to tell everyone around me that my first car was a two-year-old Ford Mustang. In 1970 I purchased a gently used 1968 Mustang that cost me $4,000. I was recently out of high school and starting a job, so I didn't have $4,000. Fortunately, my parents lent me the money and I paid them off at $80 per week for 50 weeks. It was worth every penny of hard work and savings. I loved my Mustang and to this day I know I will own one again…hopefully a classic and a convertible. In the meantime, Ford lets me test drive theirs.
That was then, and this is now. The 2020 Mustang Ecoboost Coupe was a whole other "horse." The smart team at Ford have added a Mustang High Performance Package for the EcoBoost-equipped model powered by Ford Performance's high-revving 2.3-liter turbo four-cylinder engine that puts out 332-horsepower and 350-lb.ft of torque making it the most powerful four-cylinder sports car by an American automaker.
Powerful it is. Once I was able to go from first to sixth gear on the open road, felt the rush of shifting gears and heard the exhaust tunes from the rear, I was back to 1970 on my way to a Billy Joel concert.
At first, the Twister Orange color threw me off, I felt like it was too much. However, after one day of driving and getting so many positive comments, I realized I couldn't picture it in any other color and certainly not an automatic transmission.
Because of my height, (short legs) I had to manually adjust the seat way up for me to reach the clutch and brake. It pulled me so close to the steering wheel that if the airbag deployed it would do some serious damage. The back seat, like most was tight but two 10year-olds never complained. The trunk fit two golf bags, snug but fine. The split row rear seat helps with larger cargo. It's not a family car nor would I imply it was.
I feel like everyone should own a Mustang once in their life, I am glad I did.
For more, go to ford.com and to hercertified.com for more reviews.
HERE ARE SOME HIGHLIGHTS:
Dual Exhaust System
Raised Blade Decklid Spoiler
Hood Accent Stripe
Cloth Seating Surfaces
Split Fold Rear Seat
4.2 LCD Center Stack Screen
AM/FM Stereo w/6 Speakers
Limited Slip Rear Axle
Rear View Camera
Sync with Applink
Airbags - Driver/Passenger Knee, Dual stage front, front seat, mounted side impact side air curtain
Latch Child Safety System
EXTIMATED PRICING – MY TEST VEHICLE "vehicle not for sale"
Base Price $26,670
Price as Tested: $37,765
Engine/Transmission: 332-horsepower 2.3-L turbocharged four-cylinder engine paired to a 6-speed manual transmission.
Fuel Economy: 20/27/23 mpg – City/Highway/Combined