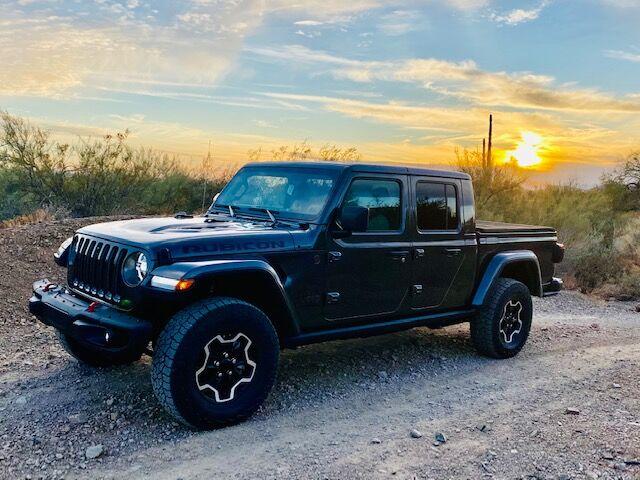 I love test driving Jeeps. Wranglers to Gladiator Rubicon 4x4's, it is always fun, plus I've owned three Jeep products during my driving lifetime. However, I believe this 2021 Jeep Rubicon Gladiator is meant for some serious rock climbing, off roading, dune loving, snow obsessed, desert dwelling enthusiasts.
Since I am a city girl, I decided to drive it to my friend Bill Burford, who is a faithful jeep owner and lives in a rural part of Phoenix. Of course, I wasn't about to take it up the mountains in his backyard, so he took me to some uneven dirt with a rut or rock of significance. I know I didn't give it a full-on rock-climbing adventure but I'm well aware of its capabilities from other journalists and jeep enthusiasts.
I figured I would ask a person who owns a jeep, is a mechanical engineer, owns a motor home where he tows his jeep to beautiful beaches, mountains and off the beaten path adventures with my BFF also in tow. Here in one of many tidbits he shared with me while we drove out to the desert.
"This Gladiator has no problem handling just about any off-roading scenario, including the rocks and ruts in the desert. The low-end diesel torque makes it easy to steadily modulate the power while climbing a steep rock face, and technologies like Selec Speed, which is essentially off-road cruise control, mean we can keep a steady pace without constantly having to work the throttle." (Truthfully, that was Greek to me.)
The 2021 Jeep Gladiator mixes the functionality of a midsize pickup truck with the iconic styling and off-road capability of the legendary Jeep Wrangler.
It has a 4-door body with a 5-foot bed.
The top is a 3-piece design with removable panels over the driver and passenger seats.
Gladiator offers all the benefits of a midsize pickup with its rear architecture, supporting excellent towing and payload capacities, especially with the Max Trailer Tow package available on Sport models.
It was easy to drive on city streets and take to McDonald's, but the minute I tipped its 33-inch all-terrain tires into the sand I felt like a different person and started to act like I owned a ranch with tons of cattle. It was like "Sex and City" meets "Dallas" on the road. Unfortunately, getting in and out required a grabrail for me due to my short legs and no red high heels. It was well-equipped like all jeeps and luxurious and comfortable.
Come on…you gotta love a Jeep!
For more details go to jeep.com or call 877.IAM.JEEP.