But, yeah, it's about the barbecue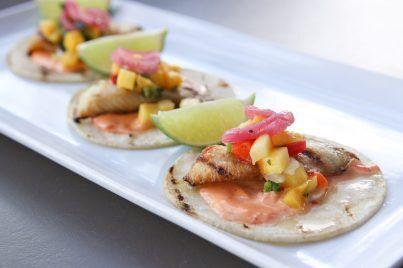 Baja Fish Tacos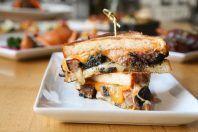 Brisket Grilled Cheese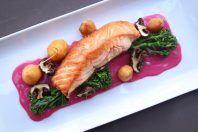 Baked Steelhead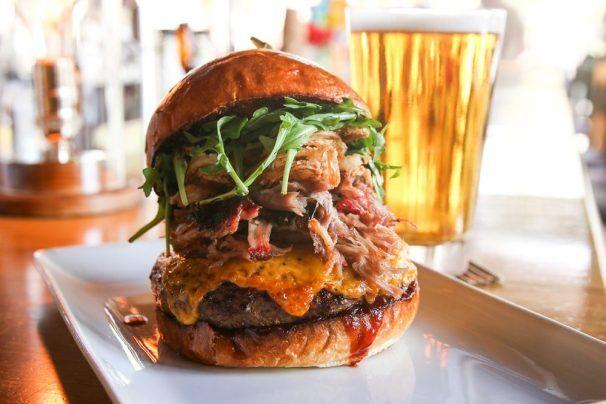 Tavern Burger
Since opening its doors in March 2017, the family-owned Liberty Station has quickly become a favorite neighborhood joint, with some patrons stopping in three or four times a week. And a neighborhood social spot is exactly what Keeler Hospitality Group, which also owns Market Street Kitchen in Scottsdale and Spencer's steakhouse in Omaha, set out to achieve when it was developing the restaurant.
"We develop concepts for the location," says owner Paul Keeler. "We like to listen to the voice of the guest and have them really tell us what they need. We heard from people in this area that barbecue would be appreciated, so that's why we invested in the smoker, and the product that we have and brought the pit masters in that we needed. It's worked out well for us."
The restaurant consists of a main dining area, a bar area that serves up classic cocktails and local craft beers (and that is open to the front patio with plenty of shade and a misting system to take on the Arizona heat), and a more intimate dining patio on the west side, which also gives diners a window on the workhorse of Liberty Station.
That workhorse is the smoker Keeler refers to, a 500-gallon, custom-made smoker that has been dubbed "Big Poppy," a call-back to Keeler's time in Boston — a nickname his family gave him and a tip of the hat to Red Sox player David "Big Papi" Ortiz. Much like Ortiz, Liberty's "Big Poppy" gets the job done — and it's a big job.
"We do all of our barbecue," says Keeler, "which is Texas Brisket, St. Louis Spare Ribs, Carolina Pork Shoulder, chicken, and prime rib on the weekends, on that little piece of equipment there."
That little piece of equipment cooks at a constant 250 degrees, slowly roasting its riches anywhere from 10 to 11 hours. It's fueled by oak to get it started and then pecan "to give it a little bit more flavor."
The brisket was especially important for Liberty to get right, and it begins with high-quality beef sourced from Creekstone Farms, then, a light touch on the seasoning — nothing but a salt and pepper rub and a "secret" ingredient (locally-sourced ground espresso coffee).
"We don't brine it, and the quality of the beef really speaks for itself," Keeler says.
Quality ingredients that are locally-sourced (brisket aside), are important to the restaurant.
"All of our produce is sourced locally, and other than the beef, which we get from Colorado, all the items on the menu are locally-sourced," says Keeler. "And we are proud of our coffee and tea program because we work with Roastery of Cave Creek's David Anderson, and he takes care of our coffee and espresso needs."
It was also important to Keeler that they had a diverse menu that was more than just barbecue — offerings that would keep patrons coming back. And they have succeeded, with plenty of comfort food and "shareables" such as Baja Fish Tacos, Smoke House Fries and Tavern Mac N' Cheese, and signature main dishes such as Boston Cod Fish & Chips, Baked Steelhead and Red Bird Fried Chicken. But the barbecue elements migrate throughout the menu, showing up in the Brisket Quesadilla, Tavern Burger, Brisket Grilled Cheese, the Big Poppy sandwich, and the Smoked Pork Bucatini (a dish that was recently featured on Food Network's "Eat, Sleep, BBQ" [Season 1, Episode 3] and garnered the restaurant national attention — recipe below.)
This month is a perfect time to discover this neighborhood gem. On Father's Day, June 17, Liberty Station will feature $1 draft beers for all the Dad's with the purchase of any barbecue entrée (limit 2 beers per person).
Liberty Station is located in the Terravita Marketplace at 34522 North Scottsdale Road, Suite 180, in North Scottsdale. For additional information, call 480.595.9930 or visit www.libertystationtavern.com. |CST