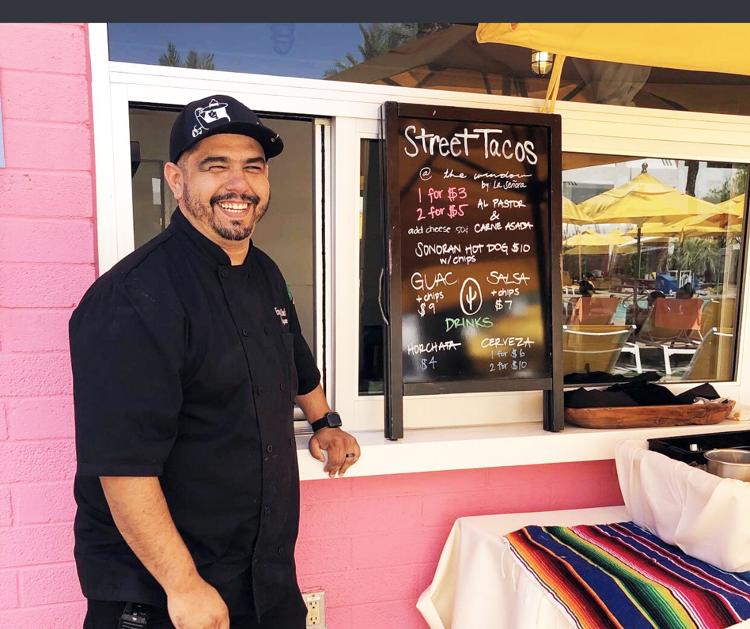 The Saguaro Scottsdale, a boutique hotel located in the heart of Old Town Scottsdale reopened its doors Oct. 1 after being closed since March. Joe Iturri, general manager of the property said that the team is excited to be back open, and "couldn't be happier to welcome our loyal guest and associates back to this beautiful property."
"The hotel is doing everything we can to follow CDC guidelines to keep our guest safe as well as our associates," Iturri added.
From infrared thermal temperature scans of associates as well as of guests upon check-in to using a disinfectant spray fogger as the final cleaning step of the guest room before it is sealed with a "clean ready sticker that will let our guest know that this room has been thoroughly cleaned for their stay," the property is taking COVID-19 precautions seriously.
The Saguaro is encouraging locals to book a getaway in town "where they don't have to get on a plane or travel too far." Iturri added, "We are promoting our 'we love locals' special rate starting at $89 per night with an Arizona driver's license."
The Saguaro's restaurant, La Señora, is also open for dining — whether it is lunch, dinner or weekend brunch. We sat down with Executive Chef Cesar Vasquez, who shared his background and the fresh perspective that he brings to the menu at La Señora
A graduate of Scottsdale Culinary Arts Institute, chef Vasquez describes himself as "a motivated and creative professional who has dedicated his life to cooking, with over a decade experience as an innovative chef."
With a love for the outdoors and an enjoyment of hunting and fishing, Vasquez's culinary passion was ignited during his childhood. Coming from a family where both men and women helped with the cooking, with home grown vegetables and live animals for meat, he saw that food bought family and friends together. This ignited his passion for cooking and by the age of 10, he was cooking shrimp on a Disco for the family, relishing every minute.
His background piqued his desire to pursue a professional cooking career and has shaped the chef he has become.
How would you describe the flavor profile of your restaurant?
Mexican street food with Southwest flavor profiles
Do you focus on sourcing local ingredients? If so, what is your philosophy behind that focus?
We source all of produce and proteins locally first then venture out.
What is your favorite dish at your restaurant? Why?
Trout Bagel is my favorite. Most people use cured salmon, here we use a house cure trout that we get from Scotland and is the best trout I have had and is so similar to salmon that if see it you wouldn't realize it was trout until you try it. The flavor is so much better.
What is your go-to dish to cook at home? Or do you let someone else take over the kitchen?
At the house we like to experiment with new recipes and stuff my boys and wife see on social media. One thing for sure is we always have white rice and combine it with everything from my wife's heritage. My sons and myself have really embraced the whole Chinese Mexican culture in our lives and the fusion of food.
What are the elements that make for a memorable meal?
Family style service and creating meals as a family create a lifetime of memories.
Saguaro Scottsdale is located at 4000 N. Drinkwater Blvd. Contact La Señora restaurant at 480.970.4444. For additional information about the hotel, including their safety protocols, call 480.308.1100 or visit thesaguaro.com/scottsdale. |CST
---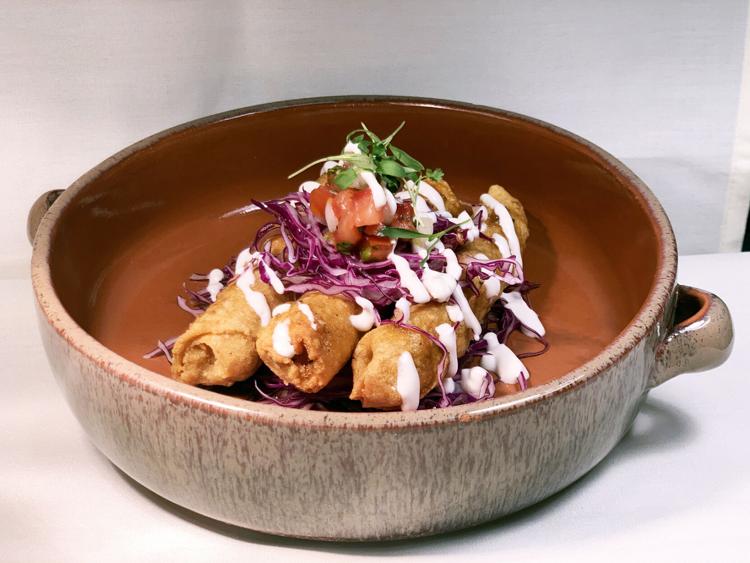 Chef Vasquez was kind enough to share his recipe for Vegan Flautas with us. We think this recipe is perfect for holidays with the family.
Vegan Flautas
Tortilla Recipe
(Yield, 300 tortillas and 30 flautas)
8 quarts masa
6-½ quarts water
1 tablespoons ground dry Arbol chile
½ cup salt
Mix all dry ingredients together.
Add water to dry mixture in a mixing bowl and allow to mix for roughly 10 minutes.
Potato Flautas
12 Idaho Potatoes                  
1 cup diced (small) yellow onions
1 tablespoons ground garlic powder  
4 epazote leaves (chopped)
Salt and black pepper to taste
In a large pot, add potatoes and cover with water.
Bring to a boil and cook potatoes until tender.
In a mixing bowl smash potato with the rest of the ingredients.
Season to taste with salt and pepper.
Daiya Vegan Sauce
1 32-ounce container of oat milk
½ cup rough chopped epazote
½ cup rough chopped chives
½ cup parsley
½ cup rough chopped shallot
1teaspoon fresh garlic
1tablespoon olive oil
3 cups Daiya shredded cheese
Sauté shallot and garlic until translucent, then add all herbs and deglaze with oat milk.
Transfer to Vitamix blender, add Daiya cheese a little at a time until the consistency of a thick sauce.
After it's all blended strain and chill for service.
Cooking Method
Flatten out preferred size of tortilla for flauta. Add potato mixture in the middle of tortilla and roll like a rolled taco. Deep fry at 350 degrees for 6–8 minutes or until golden brown. Strain excess oil after removing from fryer. Place on desired plate and garnish with Vegan Cheese Sauce over the top. Enjoy!