As of February 3, Anasazi Elementary School has become one of eight elementary schools in Arizona to have earned itself the title of being an International Baccalaureate (IB) Primary Years Programme (PYP) school.
Principal of Anasazi Elementary School, Jennifer Waldron, has spent the last four years working together with her dedicated staff to integrate the rigorous, interdisciplinary framework of IB's PYP.
This recent achievement has completed Scottsdale Unified School District's (SUSD) goal of creating an IB continuum for students Kindergarten through 12th grade. A plan built for success. 
What is IB PYP?
Within the IB framework, each grade level focuses on six units of inquiry (kindergarten has four) that follow different transdisciplinary themes. These units integrate a variety of subjects under who we are, how we express ourselves, how the world works, where we are in place and time, how we organize ourselves and sharing the planet.
Why PYP?
"Students have a role in their own learning. The idea is that from learning should come action where we, in some way, contribute back to our community in a positive way," Sara Armstrong, IB PYP coordinator said.
Instead of teaching separate subject areas, they take a multidisciplinary approach where all of the subjects are combined together in a more meaningful way allowing the students to make connections across disciplines. 
"The idea is that with the IB PYP education, and following through the continuum of the Middle Years Programme and then the Diploma, you're ultimately achieving what SUSD's vision is – engaging all students with world-class, future-focused learning," Waldron said.
It's about transforming classroom instruction in a way that deepens the level of rigorous inquiry, promotes critical thinking, and in turn, gives the students a sense of more open mindedness and global perspective.
"The students are taught to think in a different way, and see the world in a different way," Waldron said. "They're inquiring and constantly reflecting on their place within the world teaching them how they can be a positive influence, not only on the global community, but also their local communities." 
In order to gain the credentials of being an IB school, you must first go through a rigorous authorization process. Individuals from IB came in to evaluate all the teachers, rate them based on the number of PYP standards achieved and interview different students and community members. Armstrong explains that it's not a final achievement but a journey. Every five years the IB will come back and review the school's practices putting the district in a position to continually reflect and improve.
SUSD is one of the few districts that offer this continuum, and with IB being highly regarded internationally, completing the Diploma program opens up so many opportunities for students.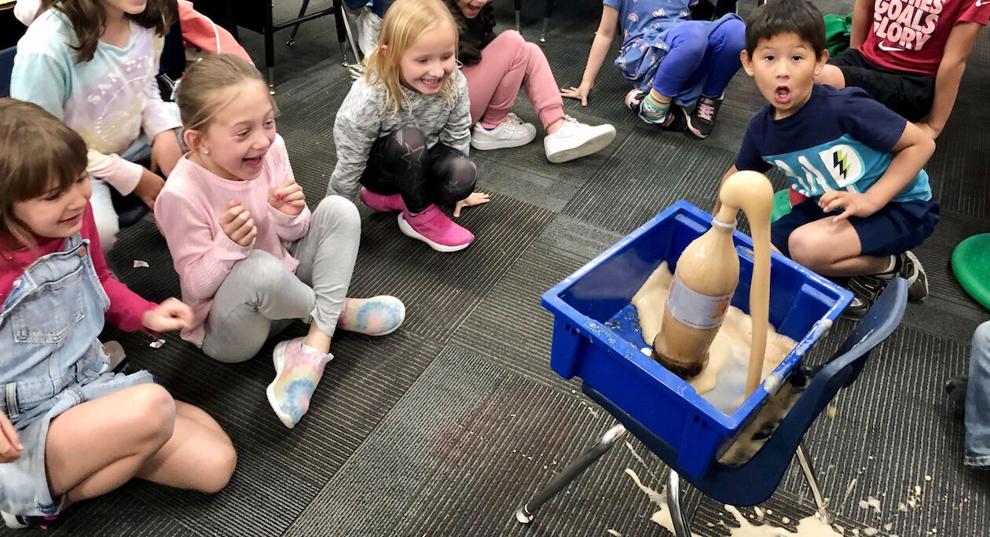 Looking forward… 
Anasazi Elementary School is already focused on growing, currently working to add a new section to the school for next year. As long as there's room they want to continue to gain enrollment, while also continuing to build more partnerships within the community and have community engagement outside of school boundaries.
They also want to continue to attract more families and students to their school and bring them into their positive culture.
"We give them a one stop shop for schooling. They can start here in pre-k and know where they're going and their track all the way through high school," Waldron said.
Any parent that wants to learn more about the program is invited to come take a tour.
"It's one thing to say we have a positive culture and a great program, but it's another thing to see it and to feel it and witness the reality of it," Waldron said. "It's like walking the walk and talking the talk. We want them to actually see it in real time and know that we are living our vision and mission."
"Elementary is such an important part of education because you're setting the foundation for students to really love learning and being a part of school," Armstrong said.
"My hope is that the students come in and learn the field and strategies needed not only as a child, but as an adult. We know that students need to work collaboratively, we know that students need to be critical thinkers, and we want to provide them with the tools to be able to do that and to be advocates for themselves in a positive way. We're in the business of raising good neighbors, Waldron said.
"We want to give them the tools to have great character education, but beyond that, be a contributing member in a positive way to the community and to society. We want to give them that foundation here in elementary. The skills and tools that'll continue to build on one another so that when they get to high school they're able to take on the world and do whatever it is that they seek out to pursue." 
Anasazi Elementary School is part of SUSD, a member of the CITYSunTimes Preferred Business Program.