They rode into WestWorld by the thousands. Many arrived on motorcycle, while others came by car. Some attendees also brought RV's or tents and camped outside.
In the end, the largest motorcycle event in the Southwest, Arizona Bike Week 2023 reported its highest attendance yet with 85,000 visitors at WestWorld for the five-day motorcycle rally and music fest. That's 10,000 more people than the previous year and its largest crowds to date.
"This was our first year as an all-woman owned bike rally and we are incredibly proud to have reached this milestone," said Lisa Cyr, organizer and part-owner of Arizona Bike Week. "The weather was ideal and between all the charity rides, entertainment, concerts and the multitude of newly added attractions, we feel this truly was our best year yet."
According to Cyr, of the 85,000 attendees that made their way to WestWorld of Scottsdale, more than 40% of them were from out-of-town, coming not only from other states but many international visitors as well.
Out-of-towners and locals alike showed up for an action-packed week of aerial and freestyle stunt shows, demo rides, live music from local bands and huge blockbuster concerts that featured headliners Billy Idol, Staind, Megadeth and Texas Hippie Coalition. There were two different stunt shows at AZ Bike Week. The Brigade FMX team performed aerial stunts at heights over 35 feet. Then the Client Ewing Freestyle team showed off their street stunts in the Bike Arena.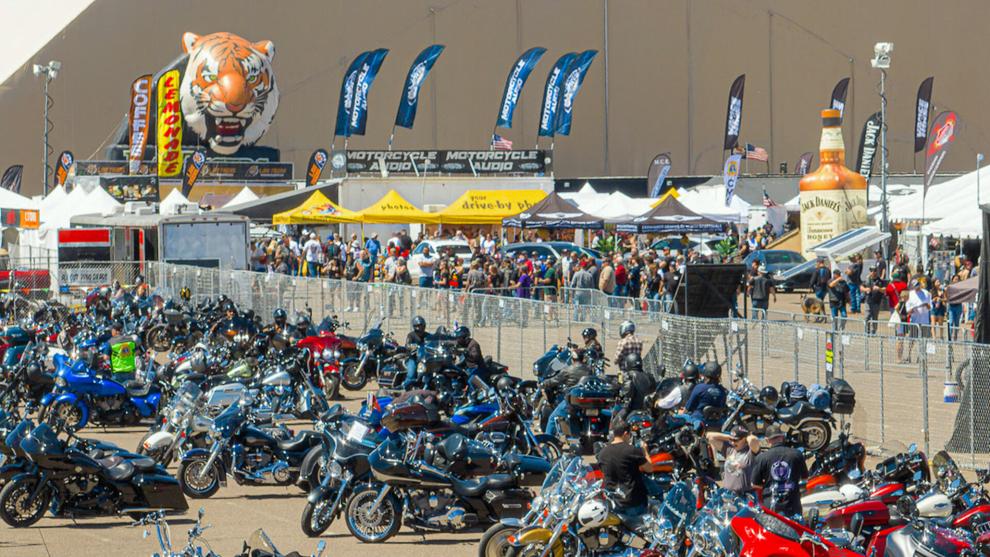 A favorite new attraction at AZ Bike Week was the All-Out Dyno Drags, which had a continuous line of riders ready to race and test their bikes and riding skills while strapped onto rollers. Participants were able to hook up their own motorcycles to safely race head-to-head against one another.
Saturday was the most highly attended day and night of the rally. That day featured a custom bike show and Staind performing in the RockYard that night.
The PowerYard also offered non-stop entertainment throughout the week with two huge bar tents on site. The HandleBar Saloon provided live music throughout the day and evening from the best of the best of the local area music scene.
The Kickstand Bar & Grill offered a diverse selection of entertainment and events. From the informative "Grease and Gears Garage" sessions, to a host of games and competitions, to raffle drawings and silent/live auctions. The Kickstand was always a happening place to be. The food and beverage selections were as varied as the entertainment, with plenty of options to indulge in. There were also three different bike shows in the PowerYard, including one just for women riders.
AZ Bike Week rally goers also enjoyed charity rides, which raised thousands of dollars for various charities.
"As always, the biker community was extremely philanthropic this year," Cyr said. "Hundreds of riders gathered each day to participate in the five charity rides that went on during the event. These rides raised funds for everything from children's hospitals to cancer foundations."
On Sunday, the final day of Arizona Bike Week, organizers turned the HandleBar stage over to the incredibly talented young musicians from Alice Cooper's Solid Rock Teen Centers. Six teen bands, who were all finalists in Solid Rock's annual music competition, performed throughout the day.
In addition to allowing these aspiring musicians to play in front of the rally crowd, Bike Week also made a $5,000 donation to Alice Cooper's Solid Rock. The donation went in part to the teen centers, which offer free music, dance and art lessons to teens, and it also provided a paycheck to the bands that performed that day.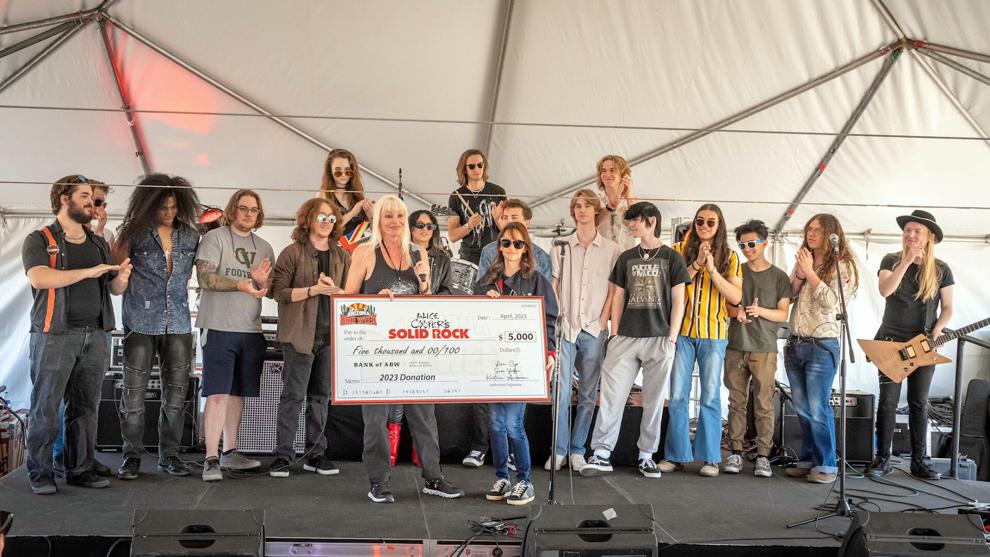 Several dozen vendors joined the festivities for 2023 offering everything from motorcycle parts and apparel to IV drips for the revelers.
Look for details on AZ Bike Week 2024 at Arizonabikeweek.com.