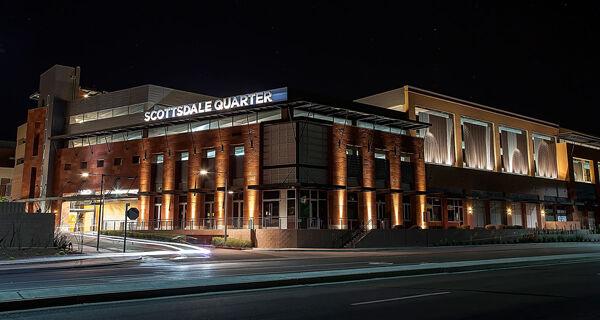 Scottsdale Quarter announced that Landmark Theatres, a specialized theater chain dedicated to independent cinema and high-quality mainstream film with 220 screens in 23 markets, will become the shopping center's premier movie theater operator. The eight-screen venue is slated to open in fall 2021.
"We're excited to add Landmark Theatres to our elevated retail lineup and to bring a unique moviegoing experience to the community," said Richard Hunt, general manager of Scottsdale Quarter. "The new cinema will be a great compliment to the shopping center and adds to our already dynamic offering of shopping, dining, and entertainment."
Landmark Theatres president and COO Paul Serwitz said in a released statement, "We are very excited to extend our brand in a beautifully designed luxury theater in an upscale center. This announcement is especially joyous for us, coming out of a period of pandemic-induced retraction of business in the world at large."
The opening of the theater will time perfectly with the prestige pictures that are released during the award season cycle and will offer locals the opportunity to see these films in an upscale setting. This is Landmark's first theater in the market. The theater will open in the former IPIC Theaters space, designed by TK Architects.
"The Landmark at Scottsdale Quarter will be a sophisticated setting for a new community to engage with our brand that elevates the moviegoing experience and is known for its wide-ranging programming and discerning audience. This theater is a perfect fit, and we look forward to entertaining the community for years to come." 
Founded in 1974, Landmark Theatres was added to the Cohen Media Group (CMG) in 2018. Formed in 2008 by Charles S. Cohen, an executive producer of the Academy Award-nominated Frozen River, CMG is an independent theatrical exhibition, distribution and production company with more than eight Academy Award nominations and a Best Foreign Language film win for The Salesman.
Scottsdale Quarter is located at 15059 N. Scottsdale Rd. For additional information, call 480.270.8123 or visit www.scottsdalequarter.com. To learn more about Landmark Theatres, visit www.landmarktheatres.com.